First introduced as a high-performance Mustang variant way back in 1965, the Ford Shelby was revived in 2005 for a new crop of muscle car enthusiasts. In 2019, the Shelby GT500 enters its fourth generation with a comprehensive redesign. Though many details of the new sports car are still under wraps, here's what we've heard through the grapevine so far.
How Powerful is Its Engine?
First and most importantly, the Shelby GT500 will be the most powerful Mustang ever created, packing more than an estimated 700 horses to compete with the Chevy Camaro ZL1 and the Dodge Challenger Hellcat. Industry experts think that the GT500 will be equipped with a supercharged 5.2-liter V8, though a twin-turbo V8 is also a possibility.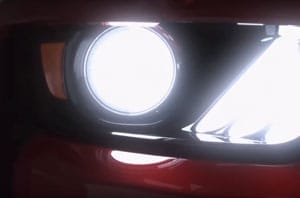 How Fast Does It Go?
As for speed, the Shelby GT500 will likely be able to exceed 200 miles per hour. Drivers will probably be able to choose between a six-speed manual or a new 10-speed automatic transmission, although a seven-speed dual-clutch automatic may also be in the mix. Expect selectable driving modes including Weather, Launch Control, and Drag Strip. The vehicle will have a conventional 90-degree crankshaft and
Based on the single birds-eye-view image released by Ford, the Shelby will have a raised heat extraction vent, aerodynamic front corner extensions, exaggerated fenders, and a large carbon-fiber wing. The look of the new GT500 will likely be inspired by the GT350 rather than by the rest of the Mustang line.
How Can I Find Out More About Ford Performance Vehicles?
Besides these skeletal details, the 2019 Ford Shelby GT500 is still shrouded in secrecy. We likely won't get a full view of the 2019 Ford Shelby GT500 until it makes its debut at the Detroit Auto Show in January, and a showroom date for this brand-new model is still pending. Feel free to stop by Mall of Georgia Ford in the meantime to chat about this incredible new sports car and browse our inventory of outstanding new and pre-owned vehicles.