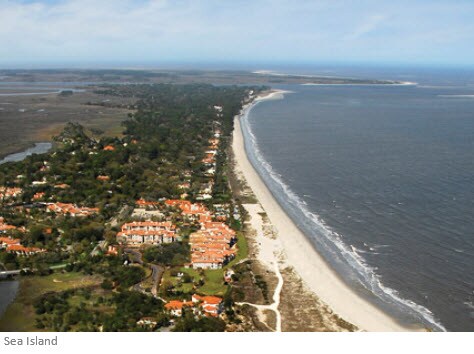 If you're interested in taking a road trip, but don't want to travel too far, head to one of Georgia's many terrific local getaways. This June, there are several destinations around the state that are hosting fun events, plus there are loads of things to do around each area.
Sea Island
A family-friendly waterside destination located along the east coast, Sea Island offers many things for you to do this summer, including horseback riding, stargazing, kayaking and many other activities.
One notable event taking place this month at Sea Island Resort is the Southern Grown Food, Drink & Music Festival, which runs from June 19 - 21, 2015. With great live music and delicious food in a beautiful outdoor setting, it'll be a highlight of your summer escapades.
Additional experiences at the resort include a spa, Georgian Room restaurant and golf club. These and other resort activities have won the facility four Forbes Five-Star awards, the most received by any resort in the world.
APPROX. 5 H 15 MIN FROM BUFORD
Meeks Park & Blairsville
Many call it one of the most gorgeous parks in the North Georgia Mountains and when you visit you'll understand why. The park is located in Blairsville and offers opportunities for hiking, picnicking, fishing, and sports activities like swimming and disc golf.
In the city of Blairsville there's also plenty to do, such as taking a trip to the Mountain Life Museum or playing a round of golf at Butternut Creek Golf Course. Among the many places to stay in the area, the Enchanted Mountain Retreats are a lovely place to reside for the weekend.
A notable event happening in Blairsville this month is the Scottish Festival & Highland Games, where there will be music, dancing, Scottish food and traditional competitions from June 13 - 14.
APPROX. 1 H 40 MIN FROM BUFORD
Fort Mountain State Park
One of the most popular state parks in Georgia, Fort Mountain offers 70 campsites, 15 cottages, picnic and group shelters, and backcountry campsites - a little something to please adventurists of all types. Make a reservation at the park and enjoy a weekend of outdoors fun in the scenic wilderness.
If you travel up on June 19, you can enjoy a campfire and s'mores event at the Naturalist Area, where you'll meet other campers and roast marshmallows over an open flame (only $1 plus $5 parking). Morning meditations, scavenger hunts and other activities are also held on select days this month.
APPROX. 1 H 45 MIN FROM BUFORD