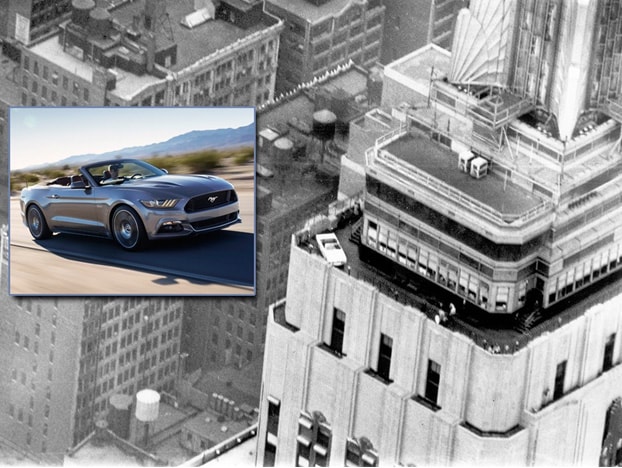 Five decades ago, Ford placed a Mustang on top of the Empire State Building, one of the world's most famous attractions, and now for the car's 50th anniversary they've performed the same feat once again. Today, the legendary roadster is four inches wider and seven inches longer, so transporting it to the top of the building was even more difficult. See photos below!

To achieve this act, a technical team carefully disassembled a special display Mustang, "cutting" the car in just the right places to create sections that were taken up elevators on custom-made racks. Once everything was moved up 86 floors to the observatory, technicians had under six hours to rebuild the car and exhibit it to all of Manhattan, where it will be on display Apr. 16 and 17.
The event marks the reunion of two American icons that once joined in a similar fashion 50 years ago, when the Ford Mustang was first revealed on top of the Empire State Building in a TV ad on April 16, 1964, then shown in public at the New York World's Fair the falling day. Since then, 9 million Mustangs have been sold and recreating the moment of its introduction to the world is a fantastic way to commemorate the car's milestone sales and birthday.
"New York is one of the greatest cities in the world, and it's the place where the Ford Mustang story began 50 years ago," said Mark Fields, Ford chief operating officer. "We're thrilled to be visiting the architectural landmark that has been the heart of the Manhattan skyline for 83 years with the newest generation of the car that is the soul of Ford Motor Company."