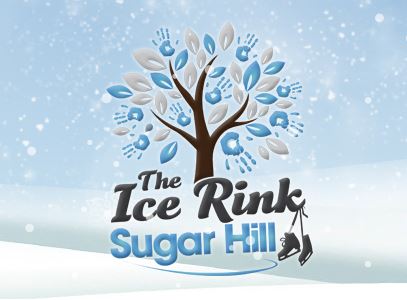 The final few weeks of winter are now upon us and what's a better way to enjoy these last weeks of cold weather than a fun night of ice skating? At the Ice Rink at Sugar Hill, guests can skate the night away right in the heart of Buford. Open since late November, the Ice Rink at Sugar Hill is closing on March 1, so bring the family to this fun local event for a guaranteed good time.
The Ice Rink at Sugar Hill boasts several exciting features, including yummy concession stands, skate training sessions for beginners and a "party suite" for birthday parties. The Ice Rink even offers fun specialty nights like "Couples Night" and "Ice Jam."
Skating is on a first-come, first-served basis. You can rent your skates for $2 or bring your own skates from home. Admission covers 90 minutes worth of skating time, though more time can be purchased for an extra $5. The Ice Rink is usually open from 5 p.m. - 9 p.m., but check their calendar for exact dates and times the rink is open. We hope you will come out this weekend and enjoy this fantastic community event. Pricing is below. You can purchase your tickets either at the door or at www.icerinkatsugarhill.com.
Ice Rink at Sugar Hill
5039 West Broad Street, Sugar Hill, GA 30518

Open Tuesdays - Sundays. Closed Mondays.

?Hours
Tues. - Thurs.: 5 p.m. - 9 p.m.
Fridays: 5 p.m. - 11 p.m.
Saturdays: 10 a.m. - 11 p.m.
Sundays: 1 p.m. - 8 p.m.
Admission
Adults (13 and up): $12
Children (5 - 12): $10
Children under 4: FREE
Family Pack (4 Skaters): $40