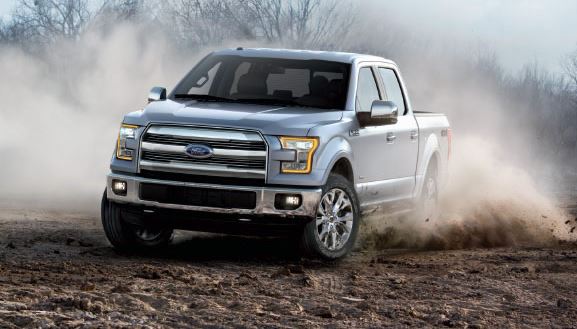 The biggest feature on the all-new 2015 F-150 is the truck's all-aluminum body frame. Ford has been touting this new frame for over a year now, praising its strong, lightweight design. For many though, an aluminum body frame on such a powerful work truck may seem a bit odd. In order to show you what a remarkable feat the new aluminum F-150 really is, we've broken down what's inside this all-new frame and what you can expect out of this game-changing truck.
Military-Grade Aluminum
When we think about aluminum, most people will immediately picture the foil that we cover our leftovers with. But the aluminum covering the new 2015 Ford F-150 is in fact a high-strength, military-grade aluminum alloy that has been shown to be stronger than steel. Ford has even made their aluminum thicker than the previously used steel for increased passenger protection. They've also used reinforcement panels to help better withstand impacts.
Fuel Efficient
Another big plus of the F-150's all-aluminum body is it lighter weight. The truck is nearly 700 pounds lighter than its predecessors, which means that not only has the truck's handling increased, but it's also much more fuel efficient and has increased towing and payload capabilities.
Dare to Repair
Repairing aluminum is a different process than that of repairing steel, which may make some people nervous. But Ford has met this challenge head on by launching dedicated repair shops across the country that work specifically on these new F-150s. These Aluminum Repair Centers - like the one at Mall of Georgia Ford - offer fully trained technicians that understand the basics of aluminum and how to get customers in and out with ease. In fact, to help reduce the wait time on auto repairs, Ford built the F-150 with a "modular front structure" that has shown to cut repair times in half.
For more information about the all-new, award-winning 2015 Ford F-150, visit Mall of Georgia Ford and take this amazing new truck in Buford for a test drive today!