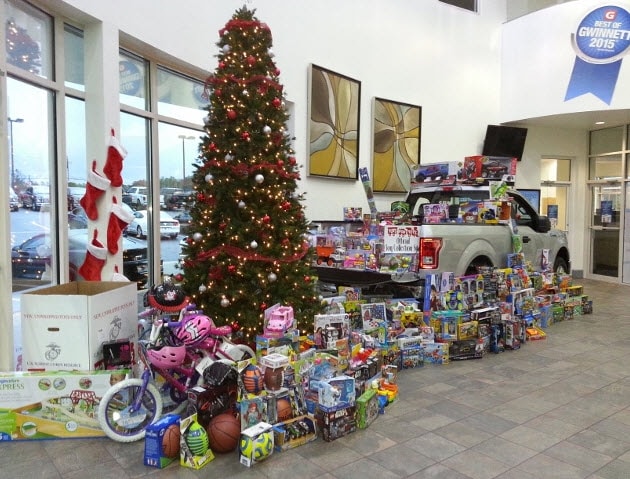 Mall of Georgia Ford and our generous vendors have been captured by the spirit of giving!
Please join us in thanking Allsouth Autosports, ADS Systems, Inc., Mirrored Interiors, The Bumper Man, Original Interior and New Beginnings Auto Glass who, along with our dealership, helped contribute over $7,000 in new toys to the U.S. Marine Corps Reserve's Toys for Tots Christmas program!
We did more than just stuff a truck as you can see. Piles of gifts took up an area in our showroom, from LEGOs to basketballs, dolls and much more. We're elated to spread the holiday spirit to underprivileged children across Georgia and encourage you to make a donation to Toys for Tots if you're looking for a way to give back this holiday.
The Marine Toys for Tots Foundation has been making the season bright for children in need since its inception back in 1991. To date, the Foundation has donated tens of millions of toys to kids in need all around the nation. Along with offering Christmas joy, the toys also spread hope to children who are less fortunate, providing encouragement that can lead to a brighter future.
To learn more about Toys for Tots and to find out how you can give, visit the North Atlanta Toys for Tots website.