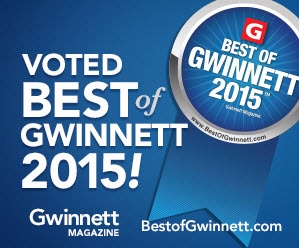 What is Best of Gwinnett?
It's a celebration of businesses that have earned respect among local shoppers – businesses that offer quality products and customer service that fosters loyalty. Every year, Gwinnett Magazine asks locals to vote for their favorite businesses in a variety of categories and winners are named the Best of Gwinnett.
The 2015 results recently came in and we're proud to announce that Mall of Georgia Ford has been named "The Best" Ford dealer in Gwinnett County! Thank you to everyone who voted for us!
From sales to service, we're more motivated than ever to provide the friendly, professional service that keeps customers coming back to us time and time again. Every day, we get to pair up shoppers with their dream cars, teens with their very first vehicles and parents with their first minivans. We understand the importance of automobiles – vessels that offer convenience and freedom when it comes to daily transportation – and we're privileged to help local shoppers find just the right Ford models for their needs.
Mall of Georgia Ford is also proud to offer a service shop where drivers can expect quality work for honest prices. Whether checking out a car for a young couple heading on their first road trip or replacing the brake pads on a truck to get it ready for adventure, our certified mechanics do important work every day to ensure the long-term health and safety of our customers' vehicles.
If you're in the market for a new car or new mechanic, don't choose second best. Come to Mall of Georgia Ford for first-class service!