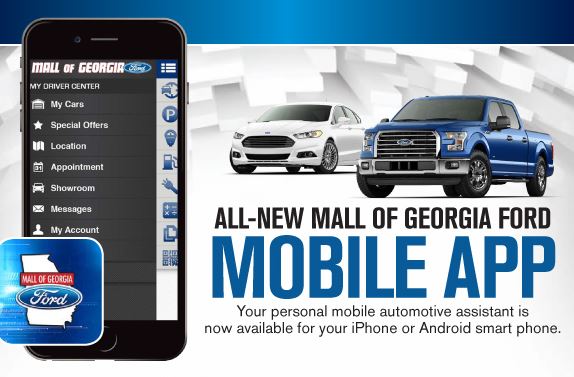 Searching for a new Ford car in Buford? Or just want to keep up with your service visits? Mall of Georgia Ford has the perfect app to help make your automotive life just a little bit easier. The Mall of Georgia Ford Mobile App is a fun and easy way to keep track of all your automotive needs. It's like having a personal assistant just for your car.
Buying Made Easy
Shopping for a new car can be a very stressful time, but the Mall of Georgia Ford Mobile App aims to take some of that stress away. Car shoppers who download the app will have access to the latest in new and used car inventory in Buford, as well as vehicle specials and important car information. Drivers can also look at a car's vehicle history report so they can see immediately if the car they are considering is the right choice.
Tracking Your Service
Another big stress for car owners can be tracking your service and repair work. As with new and used inventory, the Mall of Georgia Ford Mobile App also helps track your service appointments so you can make sure you get the appropriate service job at the best time. The app also lets customers keep track of their pre-paid Maintenance Plans, which help you get the best service deals every time you come in.
Remembering Your Loyalty
On top of everything, the app also allows users to keep track of their loyalty points and status, which will mean big savings whenever you bring your car into Mall of Georgia Ford.
There are so many terrific features on the Mall of Georgia Ford Mobile App. Download the app today and get all these time- and money-saving features right at your fingertips.