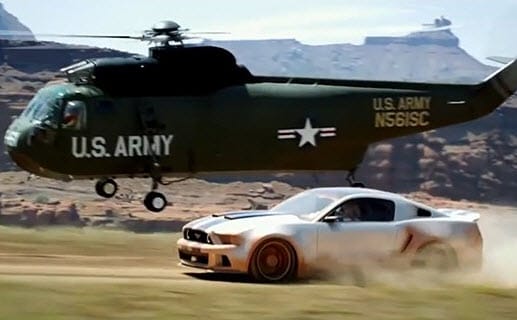 In the mid to late '60s, directors began placing cameras on and inside of cars to make viewers feel like they were right in the middle of the action. Fast forward five decades later and many of these first-person perspective tricks are still being utilized. For example, in the recently released film "Need for Speed," director Scott Waugh opted for close-up, high-intensity car scenes and real stunts, many of which were performed in the new Ford Mustang.
For the movie, which hit theaters on Mar. 14, Waugh used seven modified 2014 Mustangs and an early prototype of the 2015 Ford Mustang Fastback. Then, building on an old tradition, Waugh's crew captured images of the car with over 40 different digital cameras, ranging from high-end cinema cameras to small action cams. Waugh stated that it wasn't easy to pull off, "It's really complicated to shoot in a car. You're so confined. So we made sure all the camera angles would convince the audience the actors were really driving."
Additionally, to ensure that everyone could safely handle the high-powered cars, Waugh had his actors train at Willow Springs International Motorsports Park in California, where they learned how to drift and perform other intricate maneuvers. However, the most difficult stuff was left to pro stunt drivers, including champion drifter Vaughn Gittin Jr.
While the scenes that Waugh pulled off would have been unheard of in the '60s, they pull from techniques that were first seen in classic flicks like "Grand Prix" and "Bullitt." Watch the "Need for Speed" trailer above to catch some scenes of the new 2015 Mustang in action.