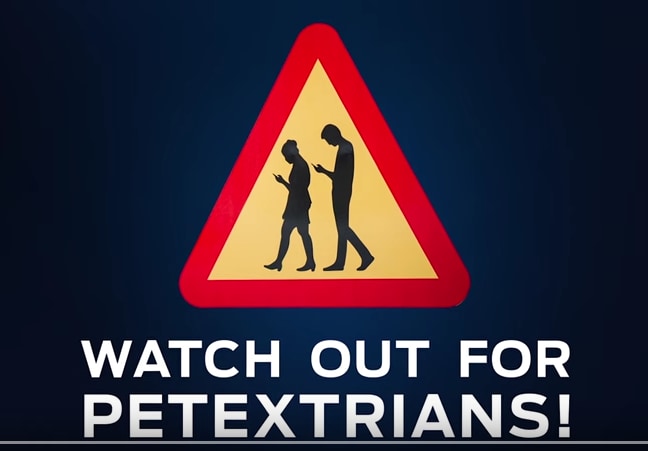 Texting has caused a widespread epidemic of distracted walking, as more and more pedestrians now walk with their heads down and minds focused on their smartphones.
Because of this, people are more likely to inadvertently step into dangerous situations, such as into city traffic without realizing it. In China, smartphone lines have been painted over 30 meters of sidewalk, while a city in Germany has added a line of blinking lights to the ground in an area where petextrians had been unintentionally crossing the tram tracks.
Recognizing that this has become a problem, and one that affects drivers who may be caught off guard when a petextrian accidentally wanders into the street, Ford has debuted its new Pre-Collision Assist with Pedestrian Detection technology as an option on the 2017 Ford Fusion.
The system is backed up by 240 terabytes of data which was collected when researching pedestrian movement. When developing the algorithm for the new system, Ford safety engineer Aaron Mills said, "We were startled to see how oblivious people could be of a 4,000-pound car coming toward them. It was a real eye-opener to how distracted people are today."
Pre-Collision Assist with Pedestrian Detection relies on state-of-the-art camera and radar technology, which detects obstacles and assesses vehicle speed and other data to determine if a collision is impending. Drivers are warned via audio and visual signals if an accident is forthcoming, and the system can apply full braking force if the driver does not react in time. It's not a low-speed system either; the technology works at speeds up to 50 mph.
Pre-Collision Assist with Pedestrian Detection is another way in which Ford exhibits its commitment to put an end to preventable car accidents. If you desire a vehicle with enhanced safety, and one that'll not only work to keep you safe but also others around you, visit Mall of Georgia Ford to browse new 2017 Ford Fusions for sale in the Atlanta area.