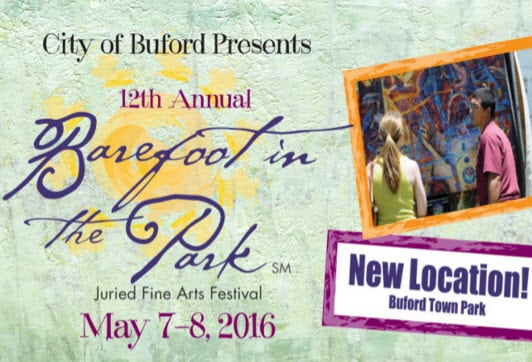 One of the Atlanta area's most popular spring events is taking place right here in Buford. Another installment of Barefoot in the Park is just around the corner and this is the year to go if you've never been before.
The annual arts festival, which has been voted a Best Downtown Event and Best Local Festival, is scheduled to take place over Mother's Day weekend on May 7-8. This year, the event is taking place at an all-new location in Buford Town Park, just a short drive from Mall of Georgia.
Tons of art will be on exhibit, with something new to see around every corner. From painting to sculpture, jewelry, woodwork and much, much more, Barefoot in the Park is the premier place to be if you want to find a few (or many) new favorite artists and some great pieces to show off in your home. As usual, there will also be a fantastic student art exhibit and proceeds from the festival will be donated; more than $60,000 in scholarships has been granted with the help of funds from Barefoot in the Park and the tradition of supporting arts education continues this year.
Along with the art exhibit, the festival offers delicious food, beer and wine, a silent auction and live musical performances all weekend long. For music fans, one of the festival's special events includes a gala concert on the evening of May 8 that features blues star Matthew Curry!
Want to learn even more about this local event? Visit the Barefoot in the Park website for additional details.