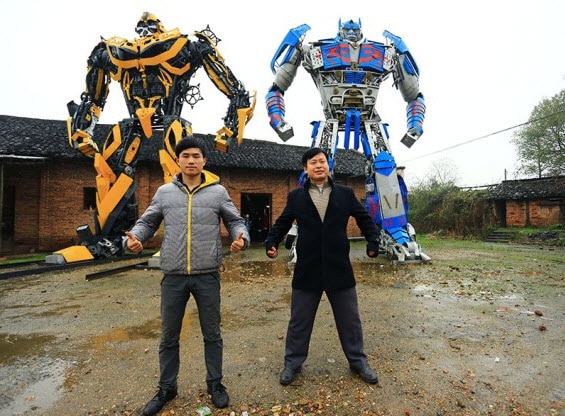 A Chinese farmer with a background in fine arts recruited the help of his son to create these amazing life-sized Transformers sculptures. The robot movie series is highly popular in China and the duo's giant replicas of characters like Bumblebee and Optimus Prime are hot sellers.
In his spare time father Yu Zhilin used old scrap parts from deserted cars and downloaded pictures and instructions from the Internet to create his first Transformers sculpture. He started back in 2007 and it took him three years to complete the first one. In 2010, he and his son Lu Yingyun began working on more and significantly streamlined the process, so they could create the sculptures at a steady pace. They've received a steady flow of customers who are interested in their work, including property developers who've placed the replicas outside of malls.
Just to give you an idea of how popular the Transformers franchise is in China, the movie installment "Age of Extinction" is the highest grossing film in the country. The movie also happened to use Hong Kong as the setting for many of its action sequences. Check out photos below to see Yu and Lu creating Transformers at their workshop in Hunan Province.