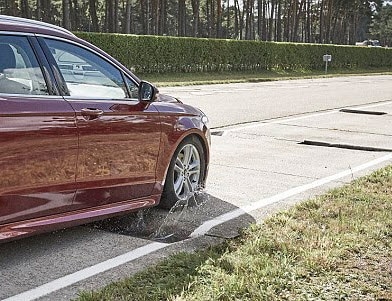 Potholes and other road fissures are dreaded by car owners across the nation. With rutted streets and highways throughout the U.S., they can be an unavoidable, costly nuisance for many drivers. In fact, AAA found that Americans spend $3 billion annually on vehicle maintenance linked to pothole-plagued roadways.
If you recently ran over a bump in the road, you should check your vehicle for signs of damage that may need to be fixed sooner rather than later. Here are a few signs of pothole damage from the Car Care Council.
Bulging Tires
Notice the sidewall on one of your tires bulging out or almost forming a bubble? If so, your tire is in danger of a serious failure and should be replaced right away.
Dented Wheel Rims
While this may seem cosmetic, dented rims can actually lead to bigger vehicle health issues if they go unrepaired. Depending on how bent they are, dented rims can cause vibration in the steering wheel, uneven tire tread wear, constant tire pressure loss, hazardous tire blowouts, unusual noises and other problems.
Pulling & General Issues With Vehicle Control
If your car seems more difficult to control than usual after you've driven over a big pothole, damage may have been caused to your suspension or steering system. If you start to notice pulling, swaying, floating or bouncing, a part affected by a run in with a pothole could be to blame.
Other signs of pothole damage include strange sounds from the exhaust system or rust forming under the vehicle due to fluid leaks, which an inspection at the Mall of Georgia Ford service department can identify. Bring your car in if you need assistance with any pothole-related maintenance issues.