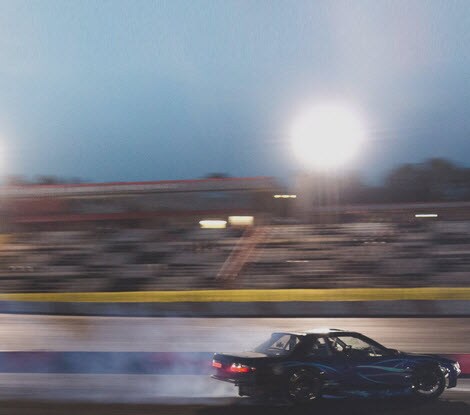 Coming up on June 17, 2016, iTrack Motorsports is hosting one of their high-speed Friday night events right here in the Atlanta area at Lanier Raceplex. Go to watch or go to race – either way you're sure to have a blast!
The event includes track racing and drifting. No experience is necessary and it's only $65 to participate. Bridge Moto will have helmets available for rent; but if you have your own, just note that it must be rated SA2005 or higher. Testing takes place from 1 to 4 p.m. on the day of the event, with 20-minute sessions on an open track. The official event kicks off at 5 p.m. and runs through 10 p.m. Awards will be handed out at the end of the night.
If you go to spectate, which only requires a small $10 fee, you can watch action-packed racing all evening long. The event is appropriate for all ages too, so feel free to bring your kids along. Entry for children 12 and under is free.
For those who want to race or drift, there's a mandatory drivers meeting at 4:30 p.m. Also, if you're driving a convertible, your car is required to have factory rollover protection or an approved roll bar.
To learn more about this exciting event and to register, visit the iTrack Motorsports page.