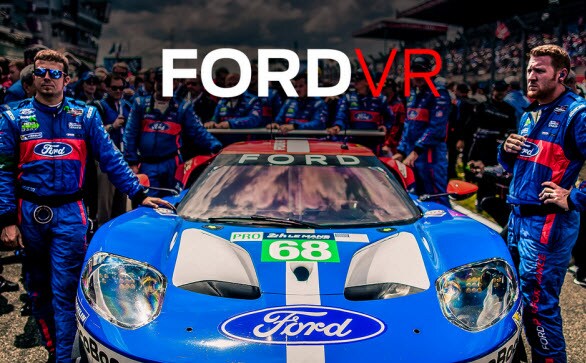 Ford just recently launched a virtual reality app that'll give you a unique 3D experience of the Ford GT at the 24 Hours of Le Mans race! You'll feel like you're right in the pit and behind the wheel of the GT as it sprints down the raceway. This is a special virtual tour, especially since the all-new Ford GT won this year's Le Mans race five decades after a momentous victory in 1966, when GT racecars swept the competition with 1st, 2nd and 3rd place wins.
Once you download the app on your iOS or Android device, you can assess thrilling 3D experiences with or without a virtual reality headset. Following the 24 Hours of Le Mans VR tour, even more exciting 3D experiences will be available from Ford, including a 360-degree tour in a World Rallycross Ford Focus RSRX with Ken Block and Andreas Bakkerud.
"We are very excited about this opportunity to provide truly immersive experiences that showcase the best of Ford Motor Company," says Lisa Schoder, Ford digital marketing manager. "Our virtual reality platform allows us to tell dramatic, impactful stories, to show a surprising side of Ford."
To help develop its innovative virtual reality technology, Ford partnered with Tool of North America, an award-winning tech company focused on app development, 360-degree content creation and virtual reality. Anyone with a mobile device can access Ford's new virtual reality app, but for a truly immersive experience, using a virtual reality headset with your phone is recommended.