If you're in the market for a new car, you may be surprised and even overwhelmed at the amenities available in a new car. From cutting-edge safety features like driver-assist aids to new interior technology, there are many conveniences packed into today's sedans, pickup trucks, and SUVs. But if you're deciding which ones are the most important, perhaps if you're thinking of selling a car down the road, some stand out more than others.
Which Technologies are in High Demand?
If you have a navigation system in your car, it's hard to imagine a time when you didn't have instant directions. Similarly, you might wonder how you ever went for long trips without listening to your favorite music through Apple CarPlay. You enjoy these features, as do other shoppers. Consumer Reports says that of the tech features available in today's cars, some that stand out the most include automatic dimming mirrors with day and night mode, power-operated seats with lumbar support, and knobs that help control the infotainment system and audio system on your car.
These features might not sound important, but they address your safety, too. Conveniently located knobs reduce driver distraction. Auto-dimming mirrors make it easier to see and also prevent distractions. Customizable driver's seats minimize fatigue and maximize comfort. Most new cars now have some form of driver display or infotainment system. If you are narrowing down your options of vehicles, look for those that offer a digital gauge. This technology is considered the wave of the future.
Safety Features that Keep Your Family Safe on the Road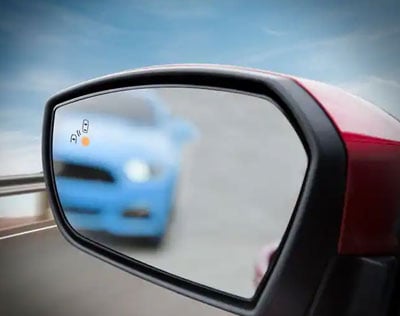 Of course, safety is another major priority in a new car. Research shows that of all the things that make a car retain its resale value, modern safety, and technology top the list. These days, you'll always get a car that at least has basic standard safety features such as seatbelts and airbags. But some cars on the market add a bit more. Now, you also have the option of driver-assist safety amenities like forward collision warning, automatic emergency braking, blind spot monitoring, and rear cross-traffic alert.
These features are all helpful. But if you had to pick the three most important, they would be (in order) automatic emergency braking, forward collision warning, and blind-spot monitoring. On the exterior, look for vehicles that have LED lights. Standard LED lights are ideal, but you can add them on if available. There are two advantages to LED lights. One is that they last longer, and the other is that they are brighter.
What Don't You Need?
When you go to test drive a car, you'll be presented with many standard amenities and add-on accessories. So if you had to eliminate items from the list, which ones would you be able to go without? Experts say that it's actually best to skip some features. This includes larger wheels, larger entertainment systems, entertainment systems in the back row, and built-in navigation. Larger wheels can make a ride stiffer and less comfortable.
Larger entertainment systems don't give you better technology, just a larger screen. Since navigation features quickly become outdated, spending more to get a built-in system can cause you to lose money if you resell your car. Since rear entertainment systems can also become outdated, they're best avoided.
There are many exciting and enticing features available in today's cars. If you need help deciding which ones to get, or if you're ready to test drive a car, don't hesitate to get in touch. We are happy to go over new features and which cars have them.