2011 Ford Edge Introduction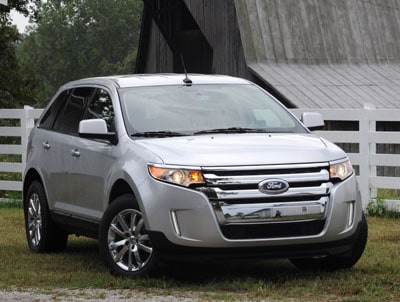 Ford's five-seat midsize crossover utility vehicle, the Edge, was introduced in 2007, and has been extremely successful, selling more than any other vehicle in the segment every year since its introduction. There were some minor modifications made to the Edge for 2009, but the 2011 model counts as a major makeover, with 60 percent of its parts and components replaced.
The 2011 Ford Edge gets fresh styling with a new grille, hood, fenders, lamps, bumper and air intakes up front, with new handles all around, new taillamps, liftgate, wheels, and exhaust system outlets at the rear. Underneath the Edge is a redone suspension and an improved braking system.
The Edge's most direct competitors in the marketplace are the Toyota Venza, Honda Crosstour, Nissan Murano, and Chevrolet Equinox, with a stretch to the BMW X3 for some comparisons.
Like all Ford products of recent vintage, the Edge has been made to look much, much bolder and sportier than its previous incarnations. Under the hood, there is more power from both its basic V6 engine and the upgraded and uprated Sport V6. Later in the year, a new base engine will be introduced on the Edge and other models, a 2.0-liter turbocharged four-cylinder with double overhead cams, four valves per cylinder, variable intake and exhaust cam timing, under the EcoBoost name, which up to now was used on V6 engines only.
The Edge will be the first new Ford vehicle to reach the marketplace with the MyFordTouch option. This system is an improvement on Ford's existing Sync voice-activated communications technology. It uses twin five-way thumb switches mounted on the steering wheel spokes, two 4.5-inch LED display screens flanking the speedometer in the instrument cluster, an 8-inch LED display screen at the top center of the instrument panel with a four-zone color-coding system, and a panel of flat touch buttons below it. The thumb switches, and the screen control climate, sound system, telephone, navigation and an enormous variety of information functions including turn-by-turn directions, sports scores, fuel prices, movie listings, dining, and even horoscopes, using a new list of up to 10,000 voice commands where the previous version only understood about 300.
On our test drive we noticed the increased power from the standard 3.5-liter V6 engine, which has been revised for 2011, along with the speedy crispness of the 6-speed automatic transmission. The engine sounds strong in the lower gears, throaty and authoritative. Yet while cruising on the highway in top gear, the cabin is very quiet, making it easy to carry on a conversation.
Brakes are much improved, with much better pedal feel, and none of the mushiness in the previous generation.