2011 Ford Explorer Introduction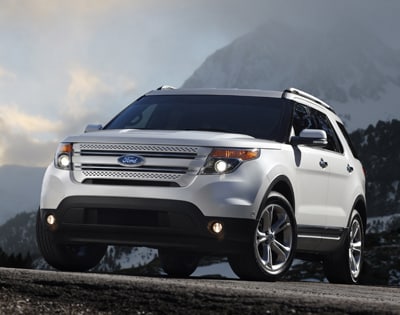 The 2011 Ford Explorer is not only the beginning of a new generation, but of a new life. Ford calls it 100 percent reinvented, and it's the truth, and it's all good.
This reinvention of the venerable Ford Explorer is 4 inches longer, 5 inches wider, and makes the third row standard. Yet it's 100 pounds lighter. Its engine has 80 more horsepower and gets 25 percent better fuel mileage. Its price is $1100 lower than the previous model.
The 2011 Explorer pretty much blows its competition out of the water, with first-in-class EPA fuel mileage of 17 city/25 highway miles per gallon, first-in-class horsepower (tied with Jeep Grand Cherokee), first in cargo capacity and second-row legroom. Ford claims 10 segment exclusives, including some in safety, with optional inflatable rear seatbelts ($195) and standard curve control, which applies braking to individual wheels as needed to correct corner trajectory.
There are three Explorer models, Base, XLT and Limited. Each seats 7 passengers, and uses the new 3.5-liter V6 engine, 290 horsepower and 255 pound-feet of torque, with a new 6-speed automatic transmission. The 2.0-liter turbocharged and ballyhooed EcoBoost direct-injection four-cylinder engine will be available later in the year. It has 237 horsepower and 250 pound-feet of torque, gets one more mile per gallon, and likely won't cost any less.
The optional 4WD Terrain Management System uses no transfer case. The driver selects the terrain with a knob (Normal, Sand, Mud/Ruts, or Snow/Gravel), and the car does the rest, flawlessly. The system includes Hill Descent Control, which could save your life on an icy street.
The Explorer's width is evident in its confident stance spanning a 67-inch track, but its smooth styling cheats the eye. It has beefy but smooth proportions, with short overhangs and fluid lines that are 12 percent more aerodynamic than before.
The chassis is super rigid, using twice as much high-strength steel as the old. There's also some Boron steel whose strength is not only high, it's also thin and it bends more easily, to form the Explorer's front bumper beam, allowing the fenders to wrap gracefully and fade away at the corners. Such curves also help to transmit crash energy down and outside, away from the cabin.
There's a segment-leading 80.7 cubic feet of cargo space behind the front seats, with the split rear rows folded, which they do at the touch of a button on each side, bouncing back up with the pull of a lever. There's outstanding second-row legroom of 39.8 inches, with good third-row space at 33.2 inches.
Ford's stated goal was to make the Explorer's interior look expensive, like the cabin of a BMW X5 or Audi Q7. They've succeeded, at least on the Explorer Limited, whose leather seats are perfect, both in bolstering and stiffness/softness.
The front seat elevates high. The Explorer will be a versatile family vehicle, so the seats have memory for the XLT and Limited, while the steering wheel and pedals adjust for different drivers in the family. The ratcheted headrests are great, because they meet safety standards but don't push your head down at the chin, an annoyance we've noted on some recent Ford models.
When the driver surveys his or her domain, it all looks satisfying, with a clean and slanted center stack using stylish satin-finish trim materials, with attractive climate vents and audio speakers.
The new 3.5-liter V6, a DOHC all-aluminum mill with variable cam timing, was first used in the Ford Edge. Mated to a 6-speed automatic transmission with optional manual shifting, we found the power and acceleration to be smooth and responsive, with plenty of torque to maintain 80 mph on an uphill freeway, after a smooth and welcome kickdown to 5th gear.
Ford put all the engineering effort it could muster into the new Explorer, and got the ride, handling, and NVH results they hoped for. The rigid chassis and careful tuning of the independent suspension produce a superb all-around ride. We found the new Explorer takes corners and undulations flat (without excessive leaning), and the speed-sensitive electric power steering enables it to turn relatively tight and quick.
We tested the Explorer off-road as well as on the highway. The Terrain Management System uses no transfer case. Even with all-season tires (as opposed to all-terrain tires which improve traction in snow, sand and mud), the Explorer blasted around a sand pit and traversed deep ditches and steep hills, no problem. It was the smoothest ride we've ever encountered over such terrain.
Two-thirds of all 6 million Explorers sold over the last 20 years are still on the road, says Ford. The Explorer vehicle engineering team took prototypes of the new model over towering Colorado passes, buried them in deep sand in the California desert, carved through snow in Minnesota and Northern Michigan, traversed mud bogs in Alabama, and logged countless development miles at Arizona and Michigan proving grounds.
All three 2011 Explorer models seat seven passengers. Initially, all use the new 3.5-liter V6 engine with new 6-speed automatic transmission. The 2.4-liter turbocharged and ballyhooed EcoBoost motor will be available later in the year. It has nearly as much horsepower and similar as the V6, and gets better fuel mileage, but likely won't cost any less.