2011 Ford Fusion Introduction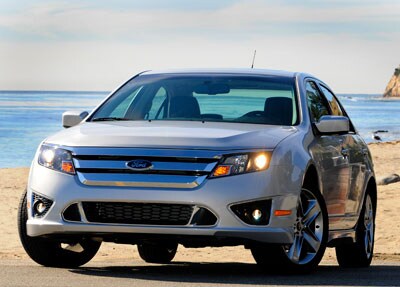 The Ford Fusion has established itself as a leader among midsize sedans. The Fusion matches or surpasses its Japanese competitors in various quality surveys, and leads the class in fuel economy. It offers contemporary styling and a first-class driving experience. How times have changed.
The Fusion competes with the Toyota Camry, Honda Accord, Chevrolet Malibu, Hyundai Sonata and several other very good cars, and holds its own with any of them. Substantially redesigned for 2010, the Fusion changes only slightly for 2011.
For 2011, Fusion comes several new features, including rain-sensing wipers, HD Radio and Ford's MyKey system, which allows parents to limit top speed and audio volume when teens are driving the car.
Also new for 2011 are styling tweaks for the Fusion Sport model.
A wide range of models includes a standard four-cylinder engine, two upgrade V6s and the Fusion Hybrid. All the Ford Fusion powerplants are competitive in power output and technological features, and all deliver impressive fuel economy. Even the lower-trim Fusion models are smooth and quiet. The 2011 Fusion Hybrid delivers the highest EPA mileage ratings of any midsize car: 41/36 mpg City/Highway.
All-wheel drive is available for the Fusion, a rarity among midsize sedans.
The Fusion fits a range of budgets. The base car comes reasonably well equipped and with the optional 6-speed automatic transmission just cracks $20,000. Ford's voice-activated Sync system, which easily pairs phones and audio devices with the car, is an inexpensive option on lower-trim models. For $23,000, the four-cylinder Fusion offers six-speaker audio, all the power accessories, Sync and a sport-suspension upgrade. High-trim Fusions offer excellent, high-power Sony Audio, a sumptuous leather interior package, advanced electronic systems like blind-spot warning and one of the easiest-operating navigation systems anywhere.
Nicely enhanced with chrome, the Fusion looks muscular and crisp, with more than a hint of Euro panache.
Fusion comfortably seats five. Every model is roomy and comfortable, with one of the largest trunks in the class.
With the 6-speed manual the Fusion is almost a sports sedan. The 263-horsepower Fusion Sport is truly powerful, quick and excitingly agile.
The Fusion Hybrid's gas engine and electric motor deliver a combined 191 hp, but the literally instantaneous torque makes it feel like more. And you don't have to drive the Hybrid like you're in a funeral cortege to achieve 40-plus city mpg. These are real-world figures. During Los Angeles morning rush, we drove the Fusion Hybrid in heavy traffic from the Sunset Strip 10 miles west along hilly, snaking Sunset Boulevard to the beach, then south to Santa Monica Pier, all the while proceeding at a distinctly non-funereal pace. Without fuss, the Hybrid delivered an impressive 41.5 mpg. In city driving, that kind of mileage takes it 700 miles on a single tank of gas.