2011 Ford Mustang Introduction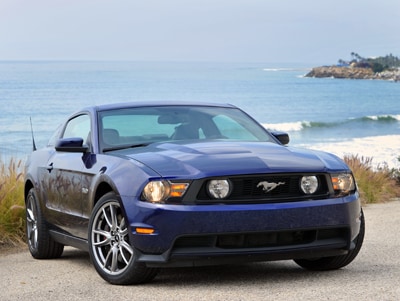 The Ford Mustang just keeps getting better. After a redesign for 2010, the 2011 Mustang gets two new engines, as well as new transmissions and improvements to ride, handling, and noise. So the 2011 Mustang represents a significant improvement over the superb 2010 edition of America's pony car, which was a large improvement over the 2004-2009 models, which was a major improvement over what came before that.
The Mustang has been in continuous production for 46 straight years, and more than 9 million Mustangs have been built and sold to date. That gives the Mustang the longest production run of any single model in Ford history.
The 2011 Ford Mustang comes in three body styles: coupe, convertible, and a glass-roof coupe. Each is available in both the traditional V6 model and the V8-powered Mustang GT. Both engines are much more powerful this year.
The 3.7-liter V6 replaces the old 4.0-liter V6, the new one producing 305 horsepower versus just 210 horses from the older, bigger engine. The new V8 marks the return of the 5.0. An new all-aluminum engine, the 5.0-liter V8 in the Mustang GT produces 412 horsepower, which is far more than the 315 horsepower of the outgoing 4.6-liter V8. Both new engines for 2011 get new six-speed manual and automatic transmissions versus the five-speeds of 2010.
The Ford Shelby GT500 gains power for 2011, with a new aluminum version of the 5.4-liter V8 producing 550 horsepower instead of the 500 ponies from the 2010 iron-block engine. We have not driven the new Shelby GT500. Yet.
The 2011 engines transform the Mustang, providing the type of willing power pony car fans will love while improving fuel economy at the same time. The engines are lighter and the car has more rigidity, so the already impressive handling is that much better.
The 2011 Mustang is also quieter and more refined than ever, and, more importantly, it's an absolute blast to drive. It is quick off the mark with a brawny sound, crisp handling, a tight suspension, and much improved brakes. Put simply, this is the best Mustang ever, and it is the model that other pony car makers should follow.
In addition to the new engines and transmissions, the 2011 Mustang gets an additional front Z brace and a revised suspension to improve ride quality while also improving handling; new safety features including Ford's MyKey system, power side mirrors with integral blind spot mirrors, and fold-down rear headrests; electric power steering meant to improve fuel economy while also aiding steering feel; and new features, such as a Performance Package for V6 models and available Brembo brakes for the GT.