Who is winning in the battle of high gas prices? The Ford Fusion Hybrid can answer that question quite nicely. Compared to the average sedan, this car can go further for less money.
What is the Estimated MPG of the Ford Fusion Hybrid?
The best way to understand the effectiveness of its hybrid powertrain is to measure it against a typical sedan. The hybrid earns an estimated 43 mpg* in the city versus a more typical 21 mpg for a regular sedan. It earns an estimated 41 mpg* on the highway versus 31 mpg for a different sedan.
How much difference can the MPG make?
The U.S. Department of Energy fuel calculator is a handy tool for understanding these figures. The Ford Fusion Hybrid, earning 42 mpg combined, can be expected to save the owner about $700 in fuel costs over a year's time. You could think of this as a rebate on the cost of buying a new Ford Fusion Hybrid. Since these are affordable cars, that's quite a good deal.
What Type of Performance Does The Hybrid Engine Put Out?
Driving is a pleasure in the Fusion Hybrid thanks to Ford's emphasis on performance and handling. The powertrain, which includes the hybrid battery, electric motor, and four-cylinder engine, can generate 188 horsepower. Drivers can feel confident whenever they need to pass at highway speeds. A continuously variable transmission isn't limited to six, eight or even ten gear ratios. More gears allow it to match the car's speed and acceleration or deceleration rate, making more out of every drop of fuel.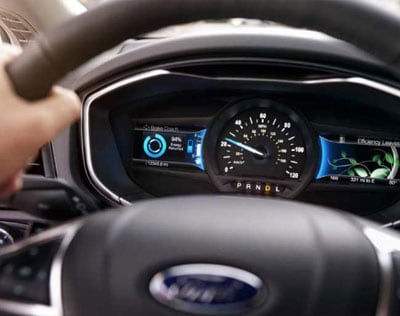 Available in three trims, the hybrid doesn't ask you to compromise on the style and tech that matter to you. The standard SYNC system can be upgraded to the Sync 3 touchscreen. If you choose the Voice-Activated Navigation System, you've got even more tools for the busy driver. You should waste less time and gas as a result. After all, getting lost or getting stuck in traffic is less likely with SiriusXM Traffic and Travel Link.
The SE comes with dual power chairs and push button start. Titanium models dress up with aluminum pedals and ambient lighting. Platinum models add leather upholstery and ventilated seats, a favorite feature in our hot summers. Every Ford Fusion Hybrid has second-row vents, sending air conditioning to your backseat passengers. The dual-zone climate system also helps you beat the Georgia heat.
Safety is a Top Consideration
Owners can count on the Fusion Hybrid to keep them safe. With eight airbags, it has special knee protection for the front seat passengers. You can add Ford's exclusive inflatable seat belts for vulnerable second-row passengers. Crash avoidance features make this car even safer. You can get a forward emergency brake with collision warning, adaptive cruise control, and an active park assist.
If you want to win the war on high gas prices, put the Ford Fusion Hybrid on your to-do list. Take a test drive at Mall of Georgia Ford.
* Based on 2018 EPA mileage ratings. Use for comparison purposes only. Your mileage will vary depending on how you drive and maintain your vehicle.