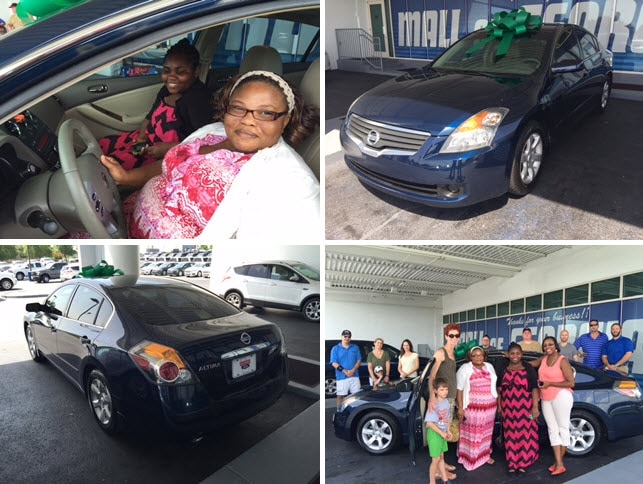 While most of us might take it for granted, owning a reliable car can have a profound impact on a person's life. For simple things like getting to work, grocery shopping and picking the kids up from school, having a car you can depend on makes day-to-day life easier.
Recently, Mall of Georgia Ford was absolutely privileged to give the gift of independence to a family in need of reliable transportation. On Saturday, July 11, 2015, we gave away a thoroughly refurbished car to one of Family Promise of Gwinnett County's After Care Families. We worked with a large team, including All State Insurance, Recycled Rides, Enterprise Rental, the National Auto Body Council and others, to provide a mother and her teenage daughter with a dependable vehicle that we hope will make their lives a little easier.
They had been in the Family Promise program for 57 days before recently graduating to a transitional home. The mother also just earned full-time employment and has been doing an exemplary job on her road to full recovery and self-sufficiency. However, she'd been dealing with a car that was completely unreliable - until now. The family was elated to receive a new vehicle to replace their old one and was also given vouchers for free service at Mall of Georgia Ford and a $100 Quick Trip gas card from PPG and Single Source Inc. In addition, to get the donation vehicle in perfect mechanical condition, we donated all of the parts needed for repairs. From new spark plugs and wires to brakes, tires and more, our team was more than happy to contribute anything we could.
Working with so many great people to donate a car was very special for us and we truly hope that this gift has a positive impact on the recipient family.