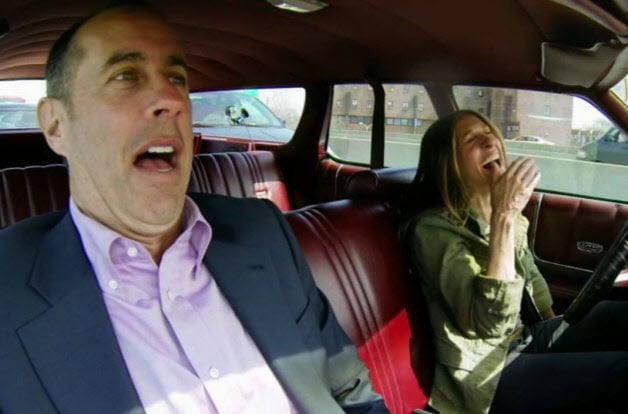 Jerry Seinfeld's new video series, "Comedians in Cars Getting Coffee," invites viewers to watch as he and a star-studded list of special guests drive around town in classic cars. On a recent episode, he takes Sarah Jessica Parker on a trip to Long Island, N.Y., in a vintage 1976 Ford Country Squire station wagon, and both celebs had some interesting and humorous things to say along the way.
Right off the bat, Seinfeld declares his hatred of the Country Squire, a nearly antique station wagon recently purchased by his friend and "Sex and the City" star, SJP. However, as they cruise through the streets of New York, we think he begins to warm up to the car and, at one point, even says in self-reflective surprise that he likes driving it.
Parker, on the other hand, is absolutely in love with her used Ford, noting that she can't get over how gorgeous it is, how much space it has, how she loves the smell and adores the huge amount of glass. The wagon also draws attention from other drivers and pedestrians, who remembered a time when large station wagons were a common sight. And this was something that we found very interesting about the Squire: its ability to take people back to a different time.
On their trip, the car provided a catalyst for Seinfeld and SJP's conversations, sparking memories of their childhoods, parents and the 70s.
Click here to watch the full episode.