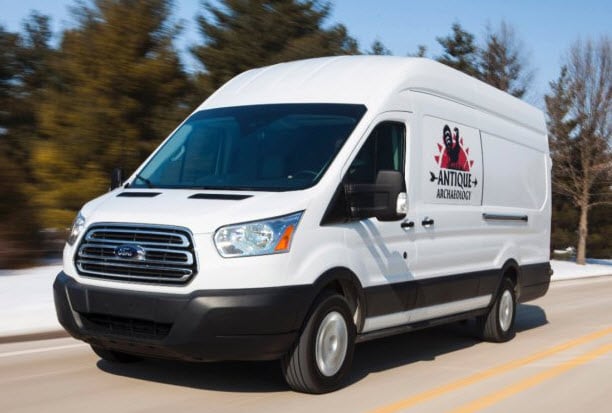 This season on History Channel's hit show, "American Pickers," hosts and expert antiquers, Frank Fitz and Mike Wolfe, have replaced their Mercedes Sprinter with an all-new 2015 Ford Transit! They'll be traveling around the country in their new van looking for collectibles and "rusty gold" to sell at Antique Archaeology, their antique shop in Iowa.
Mall of Georgia Ford is excited to see the new 2015 Transit featured on one of the History Channel's most popular shows, but it's no surprise to us that the hosts decided Transit would be a better vehicle for their needs than the Sprinter. Fitz and Wolfe stated that they switched vans because they wanted something that offered a better combination of fuel economy and cargo capacity. The duo travels across the nation collecting antiques, so it's important for them to have a van that offers excellent miles per gallon and lots of room for their valuables.
To escort them on their animated cross-country adventures this season, the pair selected a long-wheelbase 2015 Ford Transit with a high-roof option, which is the largest version of the van available. It is powered by an efficient yet muscular 3.2-liter five-cylinder diesel engine, offers an impressive 487-cubic-foot storage area and wears the Antique Archaeology badge on its side.
The 2015 Transit is an all-new model, which will be available at Mall of Georgia Ford later this year. Please feel free to contact us for details about its upcoming arrival.