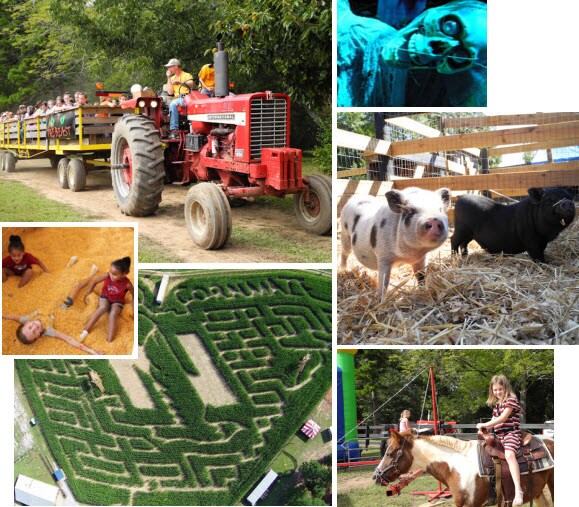 All month long fun and frightful happenings are taking place at the Buford Corn Maze. With a variety of activities to take part in, there will be Halloween excitement for kids, tweens and adults. From a spooky haunted house and creepy corn maze to not-so-scary bounce houses and hayrides, you won't want to miss out on the fun.
Here's a list of returning and new activities at the Buford Corn Maze for the 2015 Halloween season.
Corn Maze & Kid's Mini-Maze
Take a jaunt through Buford's famous five-acre corn maze and see how long it takes you to find your way out! The maze is great fun for visitors of all ages, but there is also a new Kid's Mini-Maze this year that you can take your little ones to, as well.
New Popcorn Jumping Pillow
Along with bounce houses, Buford Corn Maze features a new Popcorn Jumping Pillow in the Kid's CORNer area. Guests both young and old can jump on the giant pillow!
Unlimited Hayrides
Included with the purchase of any ticket, guests can enjoy unlimited hayrides sponsored by Kid's Dentistry of North Georgia. The ride path travels around the corn maze and through the woods. There's also a special new "twist" included this year, which you'll have to wait to see!
Pony Rides & Animal Viewing
The animal viewing area is always popular, along with the onsite pony rides, which require a separate fee outside of your ticket purchase. If you want to introduce your children to horseback riding, this is a great start!
Haunted Forest
Buford Corn Maze's Haunted Forest is the spookiest place to be this fall. It's open every Friday and Saturday evening from sunset until the midnight hour, as well as on Sundays from dusk until 10 p.m.
In addition, there will be a pumpkin patch where you and your kids can find just the right pumpkins for your Halloween jack-o'-lanterns, and there will be live music on weekends, including Karaoke from 6 p.m. to 8 p.m. on Sundays. Concessions will also be available for visitors.