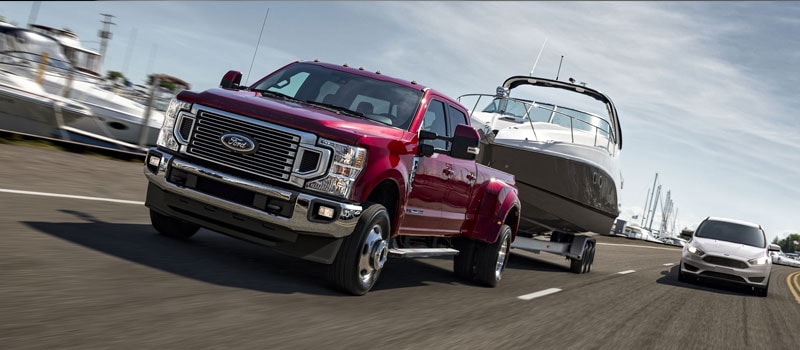 Heavy-Duty Pickups Get a New Ford V8 Engine
We are thrilled about the latest news from the engineers at Ford Motor Company. The auto giant now makes the strongest V8, gas-powered engine available to pickup drivers.
Details about this New Ford Engine
Historically, large V8s have displaced five liters of water. Ford's new truck engine moves 7.3 liters. Additionally, Ford's engineers used overhead architecture to create valves that maximize low-revolution power. As a result, this massive engine turns gasoline and sparks into 430 horsepower, 475 torque foot-pounds and 5,500 RPM. Those numbers offer pickup drivers best-in-class ownership opportunities.
What Can this Ford Engine Do?
Paired with the 10-speed addition to its TorqShift transmission line, this new truck engine can haul heavy loads for work or recreation. Uproot a tree with it, or tow your vacation gear. This substantial V8 adds versatility to your driving life.
The New Ford Engine's Availability
For the 2020 model year, you will find this huge Ford V8 in Super Duty 250 and 350 trucks. Many other F-Series models also now run a scaled-down version of the Ford 7.3-liter power plant. These medium-duty pickups still receive 350 horsepower from this alternate setup. You can also acquire stripped-chassis F-53s and F-59s with that engine. If you are a super-car enthusiast, bookmark our blog. Ford may build a version of its new engine into a coupe or sedan soon.
Come Experience the New Ford Truck Engine
If pickups with power delight you, we warmly invite you to visit our convenient location. To schedule a kind test drive, please feel free to call us in advance.