About Mall of Georgia Expedition Reviews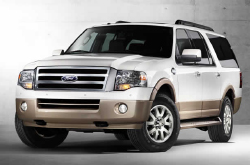 With age comes grace and refinement. So it is with the 2013 Ford Expedition, available now at Mall of Georgia Ford. After overhauling several of its vehicles for the new model year, Ford decided to leave well enough alone; this is a good thing when it comes to the Expedition. For years the Ford Expedition in Atlanta has been a common sight along the 402 and other highways, as well as roads less traveled, like those along the Chattahoochee River National Recreation Area. No matter where the road takes it, the Expedition is a symbol of style, resilience and old-school SUV fun. Mall of Georgia Ford, the number-one Ford dealer in Georgia, has catered to many Expedition customers over the years, and invites you to take a look at the new version. This full-size SUV is perfect for families, adventurers or simply those looking to get noticed while cruising in downtown Atlanta.

Find out if the Ford Expedition is your ticket to smooth sailing in the Atlanta area: Get started by scrolling past the Expedition video below for a complete listing of new features, amenities and smart technologies featured in this legendary SUV.
Ford Expedition Video Review
Bullet List of Expedition Specs & Features
Check out the 2013 Ford Expedition next to versus similar autos like the 2013 Chevrolet Tahoe, Toyota Sequoia, Buick Enclave and the Dodge Durango, and you will realize that the 2013 Expedition outperforms those vehicles in numerous areas. View the reasons see why!
2013 Ford Expedition 0-60 MPH in 6.8 seconds
2013 Ford Expedition Cargo Space: 42.6 cubic feet
2013 Ford Expedition Colors: Blue Jeans, Oxford White, Tuxedo Black, Ruby Red, etc...
2013 Ford Expedition Body Style(s): SUV, EL SUV
2013 Ford Expedition MSRP: $40,030
2013 Ford Expedition MPG: 13 city / 18 highway
2013 Ford Expedition Seats: 8 passengers
Ford Expedition: Trim Levels, Features & More
Helping You Uphold the Value & Quality of Your Investment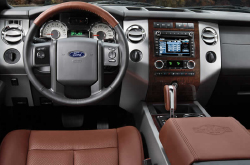 Mall of Georgia auto repair service in Atlanta is only a click away! Your Ford deserves to be treated correctly - that means Ford factory- trained technicians, reliable 2013 Ford Expedition parts, and the peacefulness that comes from a 12-month service work warranty. When you bring your Expedition to our auto repair facility in Atlanta, you'll get valuable service from our well-versed mechanics. In addition to big jobs like electronics maintenance, we handle less time consuming stuff like tire rotation and checks - and this is only a fraction of what we handle. Also come see us for serpentine belt replacement, quick oil changes and more. For low-cost, valuable Ford car repair in Atlanta, the number one place you should take your Expedition is Mall of Georgia. Get specials daily. You can check out discounts by clicking the ensuing line of text.
Get the Complete Package in Atlanta with the 2013 Ford Expedition SUV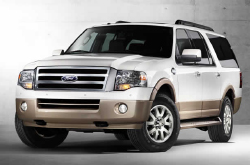 With plenty of style, technology and power, the 2013 Ford Expedition is a clear choice for shoppers looking for the complete SUV package. With so many options and trim levels to choose from, Ford Expedition buyers in Atlanta can find what they need without any hassle. And since protecting your family is second nature to Ford, each Expedition's allotment of safety features like the trailer brake controller and AdvanceTrac with Roll Stability Control makes each journey safer and more secure.

For further information on the 2013 Ford Expedition from Mall of Georgia Ford, you're encouraged to contact them directly by filling out the form on the right-hand side of the page or calling using the phone number at the top of your screen. Mall of Georgia Ford sales representatives pride themselves on learning each model's specs and features down to the smallest detail; they'd be happy to discuss any questions you may have or set you up for a test drive.