About Mall of Georgia Fiesta Reviews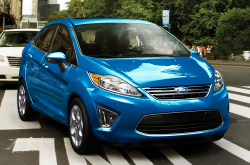 The 2013 Ford Fiesta review begins beneath the video below. Scroll down and start reading for Fiesta mpg ratings, specs, trim levels, amenities and more.

Subcompact cars are boring, right? They're slow, uninspired and just plain small. Well, that was the case, at least until the Ford Fiesta showed up on the scene. Unlike most small cars, the Fiesta features enough interior room for tall passengers and enough get-up-and-go power to get you from 0-60 in well under 10 seconds. Let's put this into perspective for soon-to-be Ford Fiesta drivers in Atlanta and the surrounding metro area: Ken Block drives one.

If you haven't heard of rally driver Ken Block, it's possible you've been hiding out under a rock for the past several years. As a member of the Monster World Rally Team, Block picked up the Fiesta soon after it began to gain popularity in North America and never looked back. Driving a tricked-out version of the subcompact, Block became the first American driver to campaign for the World Rally Championship and won the 100 Acre Wood Rally, breaking records in the process. Now, you might be thinking that when you purchase a Fiesta you won't be driving what Ken drives, and in a way, you'd be right. But you do have the original vehicle's DNA, and that certainly lives on in a non-stock Fiesta like Ken's. But if you really want more power, we'll give you a tip: When you contact Mall of Georgia Ford, ask them about the all-new Fiesta ST; if speed is your game, you'll be glad you did. Now get started with the full Fiesta sedan and hatchback review below!
Fiesta Video Review - Specs, Features & More
Bullet List of Fiesta Specs & Features
When comparing the 2013 Ford Fiesta against the 2013 Nissan Versa, Toyota Yaris and the Honda Fit, and you'll notice that the Fiesta beats out those autos in gobs aspects. Catch a glimpse of just a few of the reasons below.
2013 Ford Fiesta MSRP: $13,200
2013 Ford Fiesta Colors: Blue Candy, Lime Squeeze, Yellow Blaze, Race Red, Oxford White, etc...
2013 Ford Fiesta Body Style(s): Sedan, Hatchback
2013 Ford Fiesta 0-60 MPH in 9 seconds
2013 Ford Fiesta Seats: 5 passengers
2013 Ford Fiesta Cargo Space: 12.8 cubic feet
2013 Ford Fiesta MPG: 29 city / 37 highway
Features & Accessories Available on the New 2013 Fiesta
Fiesta Powertrain Specs for Atlanta Ford Buyers
Your Ford Fiesta Comes With Built In Peace of Mind
Maintaining the Quality & Value of Your New Investment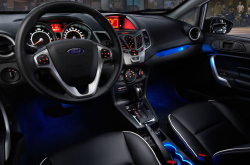 Your Ford should be treated thoroughly - that means Ford factory- trained Fiesta technicians, trustworthy Ford parts, and the comfort that comes from a 12-month service dealer warranty. Mall of Georgia service and auto repair in Atlanta is a click away! Keep your Fiesta running efficiently; have it serviced by Mall of Georgia's certified car repair craftsmen. Just a small percentage of the repairs our Ford repair craftsmen do includes wiper blade replacement, electronics repair and easy speedy multi-point inspections. Mall of Georgia's got your back for all Ford Fiesta maintenances in Atlanta, including incomplex factory recommended services. Take a look below to view money-saving service specials.
The 2013 Ford Fiesta Offers Atlanta Drivers Big Savings in a Small Package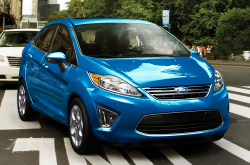 Says U.S. News and World Report: "If you want good driving dynamics, high-tech interior features and good gas mileage, there are few small cars that top the 2013 Ford Fiesta." We at Mall of Georgia Ford couldn't agree more. And since it ranks as U.S. News' number-two affordable small car – out of 43 total cars – you can't go wrong with the fun-to-drive Fiesta. No matter which version you choose, hatchback or sedan, the Ford Fiesta in Atlanta is a dream to drive.

For more information on any of the Fiesta's trim levels or optional add-ons, contact Mall of Georgia Ford using the telephone number at the top of the page or by filling out the inquiry form near the top right.