Take a Look Atlanta Ford Shoppers - the C-Max has Arrived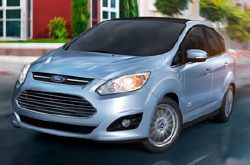 Only two years old, the Ford C-Max Hybrid & Energi have successfully taken over the car market, setting record sales for electrical vehicles. The C-Max is Ford's first-ever hybrid-only option and its quality has improved rather quickly, which has increased its overall popularity among drivers searching for an alternative to gasoline-specific subcompact cars. For 2014, Ford is introducing new C-Max models with upgraded powertrain mechanics that will rival its top competitors in fuel economy. Combined with enhanced aerodynamics, the C-Max is sure to continue breaking records.
The exterior of the C-Max bears an almost identical resemblance to its 2013 edition, maintaining similar curves and accent lines, but adds a few small details. A lowered trapezoid grille stands out from the front, a new hood seal, A-pillar moldings, rear lift gate deflectors and front/rear tire deflectors each come together to increase aerodynamics. These efforts are expected to build upon fuel economy, which is important across all Ford lineups. "We are taking actions with our popular C-MAX Hybrid so that customers are even more satisfied with the vehicle's on-road fuel efficiency performance," said Raj Nair, group vice president of global product development.
Furthering these efforts, Ford has updated transmission gearing for a greater transmission drive ratio and changed the engine oil, changes admired by early 2014 Ford C-Max reviews. A 2.0L four-cylinder engine and 1.4kWH battery power the C-Max Hybrid, producing 195 horsepower, while the C-Max Energi houses a 7.6kWh battery and has a 21-mile electric range. A plug-in hybrid, the Energi can be charged on a 120-volt outlet or a 240-volt charging station, which can produce full battery life in less time - a notable feature for buyers who use the car's electric capabilities frequently.

Continue down below to learn more about the 2014 Ford C-Max in Atlanta.