Atlanta Ford Dealer Reviews the 2014 E-150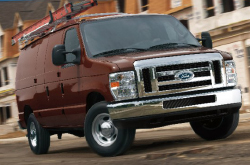 Ford's E-Series line has been a leader in the van market for over 30 years. With diverse options that cater to both cargo and family transportation, these vans have optimal towing capacity and seating. Intelligent technology-incorporated safety features, telematics systems and entertainment functions also set the series apart from the competition and expands its mass appeal.
Constructed to take on large cargo loads, the Ford E-series offers three powerful engine options: a 4.6L V-8 (225 horsepower & 286 lb.-ft. of torque), a 5.4L V-8 (255 horsepower & 350 lb.-ft. of torque) and a 6.8L V-10 (305 horsepower & 420 lb.-ft. of torque). Providing exceptional performance, the 5.4L V-8 was singled out as a top engine choice by one particularly impressed 2014 Ford E-150 review. Drivers looking to invest in this popular model may want to consider the powertrain, but if maximum seating and towing capacity adhere to your needs, the E-350 is the way to go. Fifteen-person passenger seating is available with the Super Duty Extended edition, along with a 10,000 pound towing capacity when paired with the V-10 powertrain. Additional information on the 2014 Ford E-350 in Atlanta and its extensive engine capabilities can be found in our detailed segments below.
Strong and technologically efficient, each E-series van comes equipped with Ford's smartphone-integrated SYNC system, a first for the brand. The high-functioning program provides navigation, 911 Assist, AppLink, audible text messaging, hands-free calling and entertainment services drivers will appreciate. The Crew Chief telematics system also provides support, allowing managers to keep tabs on dispatch drivers and stay informed on vehicle diagnostics.

Topping off the E-Series' technological functions is its safety features, which include AdvanceTrac stability, driver and front passenger airbags, Tire Pressuring Monitoring System, four-wheel anti-lock braking and side-intrusion door beams.