2014 Ford Fusion Reviews from Mall of Georgia Ford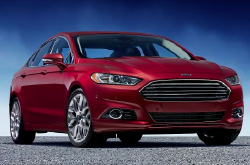 Since joining the Ford lineup in 2006, the Fusion has taken pride in its appearance, offering advanced amenities and technologies year after year, and remaining innovative to stay ahead of its competitors. The 2014 edition stays true to this formula packing new features by the bundle, including updated interior combinations on available packages, two additional exterior colors and a new powertrain option. Matched with the midsize sedan's prevailing notable amenities, these upgrades keep the Ford Fusion a top contender. Take a look at our overview of the 2014 Ford Fusion in Atlanta below, then scroll down to check out details on its specifications.

New Dark Side and Sunset color options round out the Fusion's exterior palate - also available on Fusion Energi and Hybrid models. Inside, color and material patterns receive upgrades; the freshly-designed Dune interior, available on all models, comes with cloth or leather seating, while high-grade leather and Red Brick vinyl combinations are offered on the Fusion Titanium's Interior Appearance Package. Optional cooled seating and a heated steering wheel (also available on the Fusion Energi) take the Titanium package up another notch. Plus, newly-integrated push-button start technology, standard on the Luxury Package, brings the Fusion up to speed with its rivals.
Optimizing fuel economy, the 2014 Fusion has been outfitted with an efficient 1.5L EcoBoost turbocharged four-cylinder engine. A 2014 Ford Fusion review named the amenity as one of two "fuel economy champs of the 2014 Fusion lineup," with the second being the power-ready 2.0L EcoBoost four-cylinder, delivering 240 horsepower and 270 lb.-ft. of torque. Aside from the sedan's powertrain choices, inflatable second-row seatbelts, designed to prevent head, neck and chest injuries for children and small adults, have also been added to all Fusion, Energi and Hybrid models. Additionally, the Fusion Hybrid introduces the S trim level for 2014, giving buyers a new selection in its lineup of eco-friendly options.