Mall of Georgia Ford Previews the New Transit Connect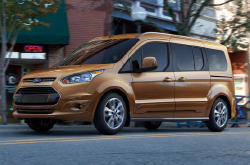 Leading the way in the commercial vehicle market, Ford has strived to offer drivers diverse options that meet each of their transportation needs. Since 1965, the Transit has served as the vessel for these features, garnering respect for its versatility and rising in popularity. The new 2014 edition continues to meet buyers' expectations, offering fuel efficient powertrains, a variety of size options and the all-new Transit Connect Wagon. Read below for a short overview of the 2014 Ford Transit in Atlanta, then scroll down to check out additional details on its amenities.
Economically efficient, the 2014 Transit has the highest fuel economy rates compared to any of its previous models. Three highly-proficient engine options backed by a six-speed automatic transmission make the new EPA estimates possible. The standard 3.7L V-6 powertrain encourages buyers to use eco-friendly, compressed natural gas and/or liquid propane gas, while the 3.2L Power Stroke five-cylinder diesel engine contains a high-tech emissions system aimed at providing cleaner burning of fuel. A 3.5L V-6 is also available with EcoBoost technology.
Ford, aware of each driver's individual needs and wants, is presenting the Transit in a number of sizes and styles for 2014. Buyers can decide between four different models, three length configurations, two wheelbases and three roof heights. The largest option provides seating for up to 15 passengers, making it an ideal choice for commercial fleet drivers. Cargo space varies from 256 cubic feet to 550 cubic feet, depending on the selected model, and interior height maxes out at 81 inches.

Transit Connect makes its way into the revised lineup with a new wagon model for 2014. Like the Transit van, the Transit Connect Wagon, well-received by early 2014 Ford Transit reviews, comes in multiple configurations, offering five- or seven-passenger seating and two wheelbase choices. It also comes equipped with sliding side doors, foldable second/third-row seating and two fuel-efficient powertrains.