About Mall of Georgia Ford C-Max Reviews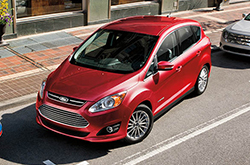 Combining nimble handling, versatile charging options and advanced interior technologies, the new 2015 Ford C-Max Hybrid & C-Max Energi have taken their rightful place as leaders in the electrical vehicle market. Ford's first electric hybrid has greatly improved over the past few years since its introduction, increasing its overall popularity and appeal for the Earth-conscious Atlanta driver. Learn more about this new Ford below as our 2015 Ford C-Max Hybrid review continues.
The 2015 C-MAX Hybrid and 2015 C-MAX Energi Plug-in are built around Ford's exclusive hybrid technology that delivers both power and efficiency. Advanced engine technology allows both models to reach speeds up to 85 mph in all-electric mode, outshining the competition. Featuring Ford's innovative 2.0-Liter I-4 Atkinson-cycle engine combined with an advanced 88kW Permanent Magnet AC Synchronous motor, the C-Max Hybrid generates up 141 horsepower and 129 pound-feet of torque. The C-Max Energi boasts a 7.6kWh Lithium-ion battery which improves the subcompact's horsepower to 188 combined and increases the electric-only range.
Now available, the 5-passenger 2015 Ford C-Max Hybrid and C-Max Energi Plug-in Hybrid in Atlanta provide abundant room for passengers and cargo, making it the smart, versatile choice for eco-friendly families. Second-row split fold seats and optional in-floor storage compartments allow you to pack everything you need without sacrificing passenger room. An optimized center console with available Intelligent Access and Push-Button Start increases convenience and the next-generation SmartGauge® with EcoGuide deliver real-time driving performance to help you get the most out of each charge.
The main differences between the 2015 C-Max Hybrid and 2015 C-Max Energi in Atlanta is the plug-in capability and battery. The 2015 C-Max Energi's convenience charge cord can plug directly into a standard 120 Volt outlet, or for a faster recharge time, the available 240 Volt home charging station can be installed. The Energi's larger lithium-ion battery allows for an all-electric driving experience for fuel-free short trips. For more information, specifications and videos, read our 2015 Ford C-Max review as it continues below.