Take a Look Atlanta Ford Shoppers - the Fusion has Arrived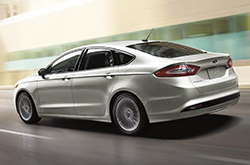 The impeccably well designed Ford Fusion sedan has made a huge splash since its introduction to the market back in the mid-2000s, delivering efficient and affordable transportation for the savvy millennial car shoppers. Since that time, the Fusion has undergone multiple redesigns and improvements, turning this simple sedan into a highly sophisticated driving machine. And now, the newly available 2015 Ford Fusion in Atlanta builds on that advanced design, embracing efficiency without compromising style or performance.
The 2015 Fusion's standard 2.0L Duratec 16V 4-cylider provides an impressive 175 horsepower and 26 combined MPG, a truly efficient and powerful engine for the vehicle weight. The optional 1.5- or 2.0-Liter GTDI Ecoboost engines further increase the power and efficiency, delivering aggressive acceleration and torque for a sportier ride. The new 2015 Fusion Hybrid Energi models significantly improve efficiency, the new Energi Plug-in delivering a striking 95 MPG city! With four available economical yet powerful engine options, five including the plug-in model, let our 2015 Ford Fusion review help you choose the right model for your needs.
Breaking new ground, the 2015 Fusion is the first vehicle in its class to offer outboard inflatable safety belts to help distribute crash force energy across more of the body to reduce injury risk for second-row passengers in the event of a collision. This innovative safety feature is but one of many smart new protections offered on the 2015 Fusion. Another new feature is the available intelligent all-wheel drive system, for improved handling on all road conditions. By engaging the electronically variable clutch to provide significant enhancement and improved handling, the 2015 Fusion delivers a more tuned and comfortable driving experience, no matter the weather.
With its array of high-tech safety and convenience features, powerful new engines and a formidable style that really owns the road, the new 2015 Ford Fusion in Atlanta delivers brilliant control, capability and convenience. Stop in for a test drive today at Mall of Georgia Ford, or continue reading our 2015 Ford Fusion review below for more information, comparisons, videos specs and more!