Check Out the New 2015 Transit From Mall of Georgia Ford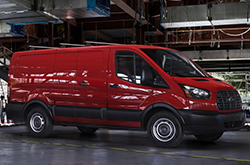 The 2015 Ford Transit, Transit Wagon and Transit Connect Vans have been redesigned for the new model year, offering greater capacity, capability and convenience than ever before. With high maneuverability, quality craftsmanship and undeniable utility, the new Ford Transit Van has solidified its well-earned position in the fleet, commercial and cargo markets. Read on as our 2015 Ford Transit review touches on Ford's most flexible and versatile van ever produced.
Designed to maximize cargo space for carrying large volumes and heavy payloads, the Transit Cargo Van is the work-capable, business-customizable hauling vehicle with the capacity you need for any job. Offering 6 different make to order configurations, from three available body lengths and three roof heights, the 2015 Transit Cargo Van in Atlanta can handle payloads up to 4,650 pounds and cargo volumes up to 487 cubic feet!
Are you hauling around a more precious kind of cargo? Then the new 2015 Ford Transit Wagon is for you. Specializing in comfortably carrying people for commuting, airport shuttles or general transport, the Transit Wagon can easily pack in all your people and their luggage. With standard seating for 8, and available options for seating 10-, 12-, or even 15-passengers, the Transit Wagon accommodates without compromise.
Bridging the gap between the compact Ford C-Max Hybrid hatchback and the full-sized Transit Cargo Van or Transit Wagon, the new 2015 Transit Connect improves commuter convenience without sacrificing commercial capability. With its highly customized seating and storage options and fuel-efficient engines, the economical and versatile 2015 Transit Connect in Atlanta delivers the driving dynamics of a small car and the perfect payload capacity for any small business.
Configured exactly how you want it, the 2015 Ford Transit does everything you need it to and more. Ideal for any and all types of cargo, from the daily package deliveries to the kids' soccer team, the Transit truly embodies the evolution of the E-series van. Continue reading our 2015 Ford Transit Van review for additional details, builds and options below.