Welcome to Mall of Georgia Ford's Transit Review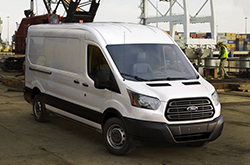 Versatile, powerful and agile, the Ford Transit and the Ford Transit Connect offer small business owners exceptional service and performance. Whether you need to haul cargo or passengers, Ford's Transit vans are terrific choices for whatever you might need. This model year, the Transit and the Transit Connect are getting some fun new tech features that will help them keep their spots as top-selling work vans in Buford.
Looking first at the Ford Transit, this work van is available in two models: cargo and passenger. The cargo van is equipped with several great hauling features, such as cargo-area tie-down loops, tow-hitch assist, a rearview camera, 16-inch steel wheels, vinyl front seats and a two-speaker sound system. The 2016 Ford Transit passenger van near Atlanta gets a few more choices, thanks to its two trims levels: XL and XLT.
The XL trim offers a rearview camera, a six-speaker sound system and a tilt-and-telescoping steering wheel. For the most convenience features, many 2016 Ford Transit reviews recommend choosing the XLT trim on the passenger van. This trim gets rain-sensing wipers, reclining rear seatbacks, two more front speakers, a chrome grille and a 4-inch display screen. Powertrain options on both vans include a 3.7-liter V6 engine, a turbocharged 3.2-liter four-cylinder diesel and a turbocharged 3.5-liter V6.
For those who want a smaller work van, the Ford Transit Connect is a terrific option. The Transit Connect features many great amenities, including fold-flat front passenger seats, built-in cargo tie-down hooks, dual sliding rear doors and an overhead liftgate. For 2016, the Transit Connect gets a few new features, such as second-row fold-flat bucket seats, a new perimeter alarm and an all-new flex-fuel powertrain that works with a 2.5-liter I-4 engine.
The 2016 Ford Transit is now available in Buford. For more information about all models of this popular work van, including a full features list and a video review, keep reading our 2016 Ford Fusion review below!