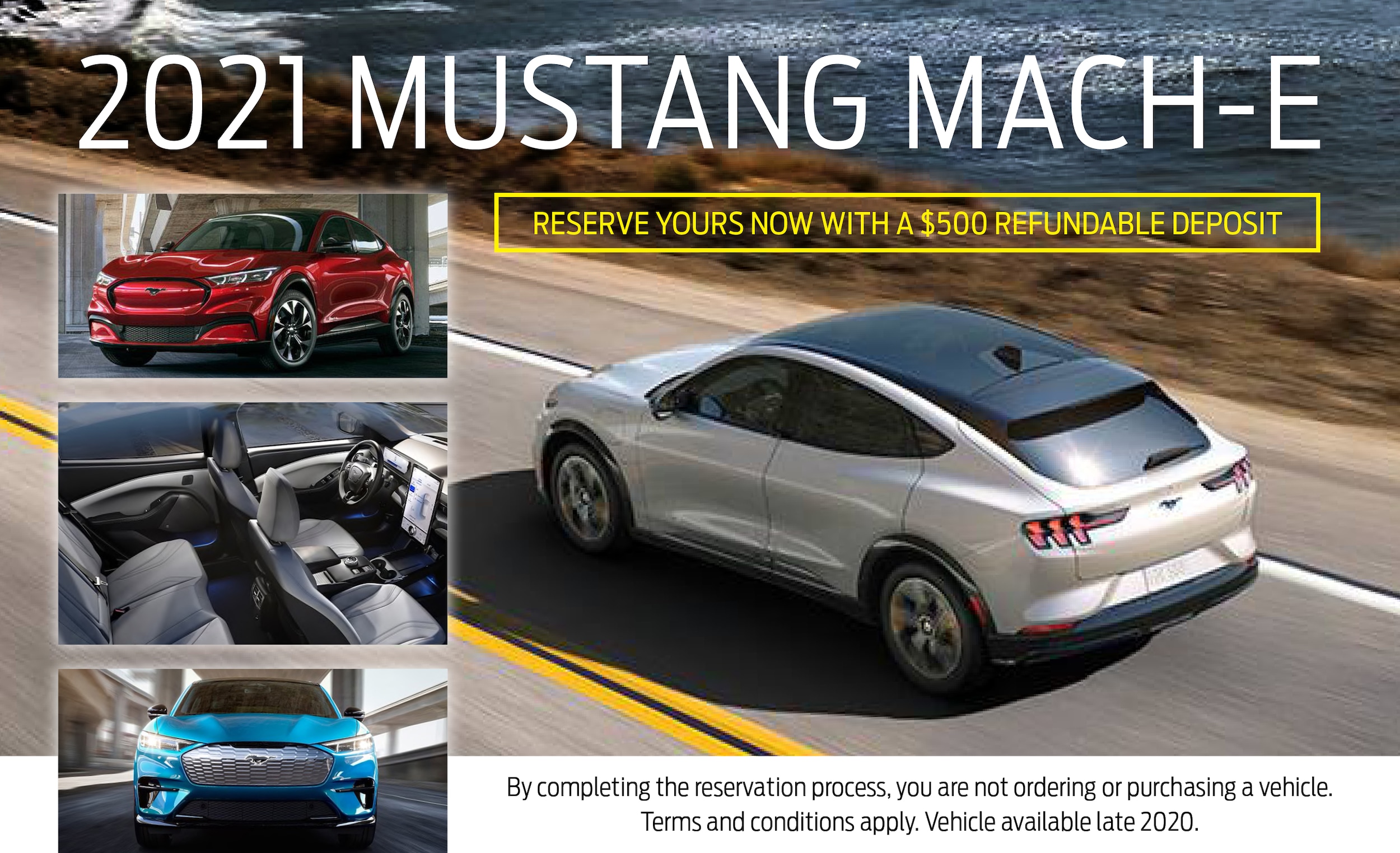 Meet the All-New 2021 Ford Mustang Mach-E!
The 2021 Ford Mustang Mach-E has generated much excitement, and for a good reason. The Mach-E is the first new addition to the ever-popular Ford Mustang lineup in more than 50 years. The Mach-E is just as fast, if not faster, than its Mustang peers--and it's a crossover SUV! However, what sets the Mach-E apart is its all-electric motor. The Mach-E produces a commendable amount of power with its all-electric capabilities, ranging from 255 HP at the base level to over 450 HP with the top engine. The Mach-E also goes from 0-60 MPH in just seconds, which is comparable to some of the fastest cars on the road. An exclusive electronic all-wheel drive system is another notable quality of the Mach-E. Inside, you'll find a luxurious interior with all the latest amenities, while the exterior is stylish and sporty.
Mustang Mach-E Highlights
No matter which trim level you choose, you'll agree that the 2021 Ford Mustang Mach-E is a sporty SUV that's built to impress. The Mach-E is produced in two versions: a standard version and a special trim called the GT that is made for speed and performance. The base-level Mach-E engine produces up to 190 kW (255 HP) and 306 LB-FT of torque with the rear-wheel drive configuration or 317 LB-FT with all-wheel drive. At mid-level trim, the First Edition increases to 248 kW (332 HP). The GT's engine creates 342 kW (459 HP) and enables it to go from 0-60 in three seconds.
While the Mach-E has much to offer beneath the hood, it is also a crossover that turns heads for its stylish and contemporary appearance. The Mach-E is created with wheels that vary in size from 18 to 20 inches, with red-painted brake calipers on the front and back finishing the wheels on the GT. A front-end trunk is standard, while a panoramic glass sunroof is available. A large 10.2-inch digital display and a separate 15.5-inch touchscreen are standard. You'll also get a Ford Co-Pilot360 safety suite and a Bang & Olufsen sound system.
Available Models
There are five trim levels in the 2021 Mustang Mach-E: the Select, Premium, First Edition, and California Route 1. You can also order the GT, a special edition with a gray carbonized front grille, MagneRide suspension, suede seats, and more.
If the 2021 Ford Mustang Mach-E sounds appealing, be sure to contact us today for more information.