Mall of Georgia Ford is fired up to be the premier supplier for the Ford Mustang in Georgia. Mall of Georgia Ford is an Buford Ford dealership and carries a large inventory of New Ford Mustang and top quality and high value Used Ford Mustang and other cars & trucks.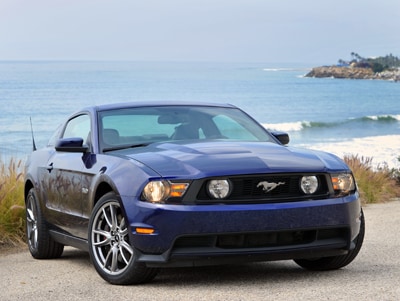 When buyers compare the Ford Mustang to other makes like the Chevrolet Camaro, Dodge Challenger and Dodge Charger, the 2011 Ford Mustang shines as the most fun-to-drive. Starting with the 2010 Ford Mustang, owners found this affordable Coupe's crisp handling and lively acceleration to be reason enough to choose.
You'll relish the Ford Mustang, affordable muscle car, when you go shopping at Mall of Georgia Ford in Buford
When one imagines the quintessential all-American muscle car, only one car comes to mind: the legendary Ford Mustang. The legacy continues this year with the newly redesigned 2011 Ford Mustang. This built-ford-tough car has been king of the road for over 45 years, and shows no sign of slowing down. The Chevrolet Camaro, Dodge Challenger and Dodge Charger cannot compete with the Mustang's longevity, power, and no compromise attitude, so check one out at Mall of Georgia Ford today, and step into a piece of automotive history.
April of 1964 marked a significant milestone in the automotive world as the Ford Mustang debuted to remarkable sales. In its first day alone Ford sold over 22,000 units, and dealerships were literally inundated by requests for the pony car. Originally sold as a 170 cid 6-cylinder workhorse, the Mustang quickly sold a million units in its first two years. In 1965, Carroll Shelby and Ford worked together to produce the Shelby GT-350, a name now synonymous with racing cars. This sports car featured a 289 V8 with an impressive 306 horsepower output. The Mustang underwent a facelift in '67, and also saw the end of Mustangs built by Shelby-America. As the years rolled on so did the Mustang; a variety of body style changes and engines were incorporated over time but one fact has remained the same: the mustang is here to stay. Stop by Mall of Georgia Ford for great deals on used Ford Mustang coupes and convertibles.
There are 5 Trim levels for the 2011 Mustang, and Ford has redesigned their engines with improved muscle and horsepower, making the Mustang the fastest car on the road. Most models allow you to choose between automatic and manual transmissions. Mall of Georgia Ford in Buford offers the Ford Mustang in V6, V6 Premium, GT, GT Premium, and Shelby Trim Levels. Each model offers a convertible option. Choose colors like Grabber Blue, Race Red, and Yellow Blaze Metallic, and personalize your Mustang.
The Mustang V6 and V6 premium feature an all-new 3.7 liter 4V Ti-VCT V6 engine with an industry-exclusive 305 horsepower. The V6 and V6 premium utilize twin independent variable cam timing which allows variable control of intake valve closing. This capability optimizes combustion at full load to provide improved power and low speed torque. It also enables variable valve overlap, which provides better fuel economy and optimizes cold start operation with improved exhaust emissions. Stop in today at Mall of Georgia Ford to find a 2011 Mustang that is right for you!
The GT and GT Premium engines feature a 5.0 liter 4V Ti-VCT V8 engine. Ford has triumphantly returned the earth-shaking 5.0 liter monster with great improvements like more efficient combustion, cooling jets, and an amazing 412 horsepower. Throw in Ford's H-pipe exhaust, and get ready to hit the pavement in Buford and hear that Mustang GT roar.
The legendary Shelby GT500 features a 5.4 liter supercharged 4-V V8 engine for the 2011 model year. Dominate the track with Shelby's 540 horsepower and leave the competition in the dust. Talk to Mall of Georgia Ford and test drive a Shelby today!
All of the 2011 Ford Mustangs at Mall of Georgia Ford come with a programmable MyKey, a device that assists younger drivers in safe driving habits. Some Trim Levels include SYNC, the in-car connectivity system. SYNC allows you to easily operate the most popular MP3 players and Bluetooth-enabled phones with simple voice commands. SYNC's Health Report allows you to create a personalized online report of your vehicle's diagnostics. SYNC also includes traffic directions and information, making your next trip easier, and more importantly, safer.
Ford's exciting 2011 V6 Mustang at Mall of Georgia Ford features 17-inch painted aluminum wheels, stainless steel dual exhaust, limited-slip rear differential, AC, powered accessories, and an audio system. The V6 Premium adds extras like reclining leather-trimmed front bucket seats with a 6-way power adjustable driver's seat and 2-way adjustable headrest, 17-inch machined aluminum wheels with painted pockets, ambient interior lighting, Ford SYNC, and an upgraded stereo system.
The fun to drive 2011 GT comes standard with 18-inch wide-spoke painted aluminum wheels, dual stainless steel exhaust with bright rolled tip exhaust, a rear spoiler and foglamps. The aggressive GT premium features all of the GT's extras and adds voice-activated SYNC, ambient interior lighting, a six-guage cluster with MyColor, and a tilt leather-wrapped steering wheel with aluminum spokes and bright aluminum interior accents. Rock out with a Shaker 500 audio system single CD player with MP3 capability. Don't forget to ask a sales representative from Mall of Georgia Ford about GT Mustang Convertible options!
If speed is the name of your game, Mall of Georgia Ford has the pony car for you. It's the race-ready Shelby GT500. The Shelby features: leather-trimmed racing stripes and sport bucket seats, 19-inch premium painted forged aluminum wheels, a Tremec 6-speed manual transmission, an optional Shelby GT500 Electronics package, and most of the amenities and extras offered with the other Trim Levels. Be sure to ask Mall of Georgia Ford about Saleen Performance Packages and other package options and hit the road today with the commanding Shelby GT500.
The details behind why the Ford Mustang is good enough to be your main affordable muscle car in glamorous Georgia
Mall of Georgia Ford offers the Ford Mustang a 2-door Coupe which seats 4 people suitably. The Mustang weighs 3,401 pounds, is 188.1 inches long, 73.9 inches wide, 55.6 inches high, and the Ford Mustang's turning radius is 16.7 feet. substantially roomy for its class, the Mustang has 38.5 inches of headroom in the front, and 42.4 inches of legroom up front. In the Mustang's back seat, there are 34.7 inches of headroom and 29.8 inches of legroom. Need to bring a lot of luggage? The Mustang trunk holds up to 13.4 cubic feet of your equipment. So, take a breather and have a good time!
Standard Ford safety features included in the Mustang are traction control, anti-lock brakes, side airbags, driver airbags, side-impact bars, seat-belt pre-tensioners, passenger airbags. With all these features, the Ford Mustang is always rated terrifically by the IIHS and NHTSA.
The Mustang also has a raft of comfort and convenience features, including power steering, remote locks, power windows, power mirrors, climate control, cruise control, air conditioning, power seats, adjustable steering wheel, and more! Especially nice are available hands-free phone and navigation. Test drive the Ford Mustang in Buford at Mall of Georgia Ford.
Like all Ford cars & trucks, road handling and performance are top priorities for the Mustang. Passing horsepower in the base Mustang is 540 bhp @ 6200 rpm, and producing excellent torque 510 ft lb @ 4500 rpm foot pounds/rpm, the Mustang accelerates briskly from 0 to 60 mph in just 5.4 seconds. If you want to go that fast, the Mustang has a top speed of 155 miles per hour. Despite this excellent power train output, the Ford Mustang's fuel economy is rated at 19 miles per gallon in the city and 29 highway miles per gallon. With a fuel tank capacity of 16 gallons, the Mustang cruising range is well above average. Truly a performance car!
The Ford manufacturer's warranty covers the Mustang for manufacturing defects and has these specifications 3 Years / 36,000 miles. Ford has worked for years to minimize enviromental impact, and the Mustang's carbon footprint is rated very low. Not surprisingly, with all these Mustang advantages, this great Ford Coupe retains a high percentage of its value at 3 years and 36,000 miles, which makes the Ford Mustang a great used buy!
When seeking safe, economical, sporty and stylish Coupe, Buford buyers should head to the Ford dealer of choice, Mall of Georgia Ford at 4525 Nelson Blvd in Buford Georgia.
Ford Mustang service information for Buford
Ford Mustang owners and lessees in Buford have found that Mall of Georgia Ford on 4525 Nelson Blvd in Buford is the very best choice for Mustang warranty work, regular maintenance & inspections, and mechanical repairs. At Mall of Georgia Ford, Certified Ford Technicians, trained in the very latest diagnostic and corrective techniques, work for one thing only ? your complete satisfaction. Whether it's time for your Ford to have an oil change, or tire rotation, or if you need a regular Mustang Scheduled Maintenance, Mall of Georgia Ford is your first choice. Wheel alignments are another specialty of our Certified Ford Techs, and, here on 4525 Nelson Blvd, we are the smartest choice in Buford, for quick courteous and professional Ford Service of all kinds.
If you'd like to make an appointment to have your Mustang serviced, click the link or just give us a call. See you soon.