It can be frustrating to adjust the controls for your Ford air conditioner and not generate a suitable response. For example, you may be trying to make the air cooler or the airflow more powerful, and adjusting the system settings may not be productive. Perhaps the air conditioner functions as desired, but running the system makes your vehicle's interior smell foul. The use of your air conditioner is essential for your comfort while you are cruising around Georgia most days of the year, and our dealership's service team is ready to help you repair any type of AC issues that have developed with your Ford.
Why Is My Car's Air Conditioner Not Circulating Much Air?
When you adjust the controls for your Ford's air conditioner from a lower setting to a higher setting, you understandably expect the airflow to increase substantially. However, when you are dealing with a weak airflow problem, this adjustment may yield little or no difference in the airflow. Minimal cool airflow inside your vehicle can be uncomfortable, and we are ready to help. Through an assessment of the system, we can determine the cause. Some of the common causes of this problem are mold growth on the evaporator case, leaks in the hoses or damages to the seals. We are equipped to repair this type of issue as soon as possible in most cases.
Why Is the Air from My Car's AC System So Warm?

When your Ford AC system stops blowing cool air, it is reasonable to think about the possibility of needing a new AC system installed. While some drivers will require a replacement, the issue of warm air blowing from the AC may be addressed with a quick repair. A constant stream of warm air is often caused by leaking Freon. It could also be caused by issues with the vacuum seals, compressor, blower or condenser. Some drivers will notice that their vehicle's AC puts off a small amount of cool air before blowing warm air around. This could be the result of problems with the compressor clutch, the valves, the fuses or the seals. With our skills, equipment and in-stock parts, you can usually expect a fast repair response from us.
Does My Car's Air Conditioner Have a Leak?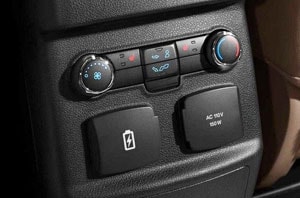 A small leak may seem like a negligible issue that you can easily overlook for the immediate moment, but this is not advisable. Regardless of how small the leak is, it can permit moisture to enter the system and to transform the refrigerant into a dangerous substance that corrodes the entire air conditioning system. If you notice any signs of a leak regardless of their size, reach out to us for diagnostics. We use sniffer equipment and dyes to identify leaks accurately.
Is It Possible to Clean a Dirty Air Conditioner in a Ford?
While it can be difficult for the average driver to view the components in their Ford air conditioner, it may be relatively easy to spot signs of filth in this system. After all, a dirty air filter can create an unpleasant odor that permeates throughout the interior of your Ford. Mold is another element that can make your system dirty and that can cause a bad smell inside the vehicle. Mold on the evaporator case could grow when this component remains wet from a clogged drain line. Our team can clean your system to address these smelly concerns properly. When you have any AC repair concerns related to your Ford, we are available to work for you.
Service Hours
Monday

7:00AM - 6:00PM

Tuesday

7:00AM - 6:00PM

Wednesday

7:00AM - 6:00PM

Thursday

7:00AM - 6:00PM

Friday

7:00AM - 6:00PM

Saturday

7:00AM - 3:00PM

Sunday

Closed