From brake pads and shoes to rotors and drums, your Ford vehicle's braking system has a lot of different parts. These brake parts see a lot of daily use, so it's only natural that they wear down over time. However, when one part isn't functioning correctly, it can affect the entire braking system. Taking your Ford in for frequent inspections and maintenance is one of the most  important aspects of vehicle ownership, and one that should never be put off.  
Do You Need a Brake Inspection?
Whether you drive a Ford car, truck or SUV, it's recommended you plan for a brake inspection about every 12,000 miles. If you haven't been keeping up with a regular maintenance schedule or if you can't remember the last time your vehicle's brakes were checked, we suggest you make a service appointment at our Atlanta-area auto repair shop as soon as possible.
If your vehicle's brakes are emitting any unusual sounds or are declining in performance, do not wait to take it in for service. Brake problems do not go away on their own, and ignoring them will only make matters worse. Continuing to drive around with even a simple issue like worn brake pads can lead to costly damage!
Signs of Brake Wear
Now, you may be wondering "what are the signs of bad brakes?" Well, there are a variety of issues you may experience, as it depends on the part of your vehicle's braking system that needs service. Here are a few of the most common symptoms that your vehicle needs brake repair: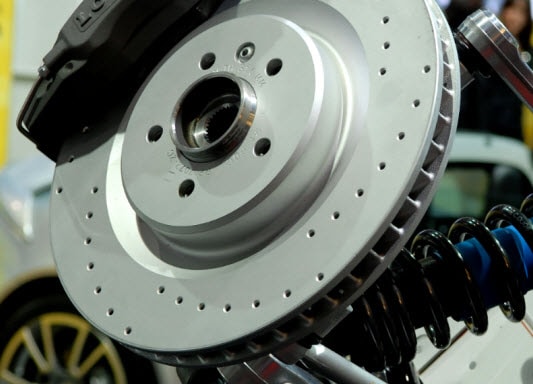 A loud sound, like grinding or squealing, occurs when braking
Your car or truck pulls to one side when braking
The brake pedal feels less responsive, and the vehicle is taking longer than usual to slow down or stop
Your pedal or wheel vibrates when the brakes are applied
The parking brake is loose
Brake Repair in Buford
Brake issues are frustrating and undoubtedly the cause of  many headaches. You aren't the only one to ask "where can I find trustworthy brake repair near me" or "how much does brake repair cost?" At Mall of Georgia Ford, we understand your many concerns. Our service center near Atlanta is staffed with highly experienced technicians who are certified in Ford repair. We also offer Ford OEM parts, like Ford brake pads and brake rotors, so you  know you are getting the highest quality products available.
Additionally, we offer brake service coupons to offset the financial stress of a large brake repair. For more information on the services offered by our Ford dealership in Buford, pay us a visit or contact us online today!