Often, tire blowouts are preventable - you just have to  give your wheels a little attention every once in a while. At our Atlanta-area  tire shop, we tell our customers to visually inspect their tires at least once  a month and before going on long trips. A few things to look out for include:
Check the tires for proper inflation  
Look for cuts and cracks
Watch out for bubbles or bulges in the sidewall,  especially if you've recently hit a pothole
Look for uneven tread wear, which could mean  you've overlooked your tire rotations or alignment services
And, of course, make sure the tread doesn't look  too low or bald; when it's 2/32" or lower, you need new tires now
If you believe you need a tire replacement, schedule an appointment at our service center today. We offer competitive prices on new  Ford tires in Buford and sell products from many well-known manufacturers like  Bridgestone, Goodyear, Michelin and others. You can also check our service specials to see if we have any current deals.
When to Get Tire Alignment in Buford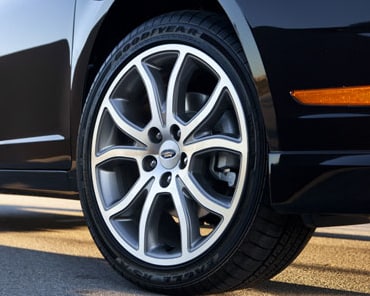 If you've noticed that your car pulls to the left or  right, it could mean your tires are misaligned. Two additional indicators include  a steering wheel that appears to be crooked when you're driving straight and  uneven tread wear, especially if you notice it on both the front and back tires.  Even if you're not experiencing any of these signs, have your alignment checked  at our tire shop in Buford every six months, as it can be difficult to tell when a car's wheels are misaligned in many cases.
When to Get Tire Rotation  & Balancing
Rotations should be performed about every six to eight  months along with wheel balancing. If you notice your front tire tread wearing  much faster than the rear tires (or vice versa), this could likely be due to  skipping tire rotations. Additionally, if you notice excessive vibration,  particularly when driving at highway speed, it could be due to skipping wheel  balance service.
Tire Repair Near Me
Visit Mall of Georgia Ford's tire shop in the  Atlanta area to receive high-quality products and workmanship, excellent  customer service and affordable prices! Whether you're looking for new Ford tires, tires for  another make/model, or specialty options like performance/summer tires,  all-terrain tires or even snow tires, we can get you what you need.