The best way to protect your vehicle's value and ensure that it functions well for many years is to maintain it properly at regular intervals. Our Mall of Georgia Ford service team have answers to frequently asked automotive service questions.
Can I Service a Vehicle With Mall of Georgia Ford Even if I Didn't Buy Here?
Yes! You may bring your new or used Ford in for service your vehicle even if you purchased the vehicle at another dealer.
How Often Does Ford Recommend an Oil Change?
You should make it a point to bring your car, SUV, or truck in for an oil change every 5,000 - 15,000 miles, depending on the type of oil used. It is not recommended that you drive your Ford more than 5,000 miles or six months without bringing it in for an oil change. For the most accurate schedule, check your owner's manual.
Do I Have to Pay For a Recall?
Generally speaking, you will not have to pay for repairs related to a safety recall. Feel free to schedule an appointment for service and repairs immediately when you get a recall notice in the mail.
Do You Service Vehicles From Other Brands?
Mall of Georgia Ford services all makes and models, regardless of whether they are built Ford tough or not. We encourage you to stop by for our multiple-point inspection even if you do not own a Ford. No appointment is necessary for this routine service.
When Should I Replace My Tires?
Tire life varies depending on tire type, mileage, and driving conditions. You should consider replacing them every three to four years. Tires that are worn to where they have less than 2/32" of depth, is a big indicator of lack of traction, which can lead to accidents. Using a penny, check your tread. If you can see Abraham Lincoln's head, the tread is too thin. Other signs include tears and worn spots on your tires.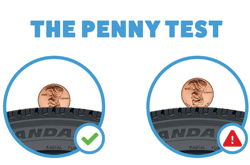 Will My Warranty Cover My Repairs?
This will depend on your warranty type. Eg, warranty for a brand-new car vs certified-preowned may vary. Your bumper-to-bumper warranty with Ford covers all repairs for up to three years or 36,000 miles from the date of purchase, whichever comes first. You may want to consider an extended warranty to cover the powertrain and other elements of the vehicle after that time period. Ford also offers to finance for repairs through its credit card should an emergency arise and your extended warranty does not cover the cost of all necessary repairs.